Parc National de Plaisance
par Houle, Jean-François
By creating Parc National de Plaisance on March 22, 2002, the Quebec government took steps to protect and present not only a representative sample of the Saint Lawrence Valley lowlands, but an area renowned for its wealth of plant and animal life. The park, located on the site of Louis Joseph Papineau's seignory on the banks of the Ottawa River, is surrounded on all sides by farmland and human settlements. This veritable oasis notable for its wetlands is one of the jewels of Quebec's natural heritage.
Article disponible en français : Parc national de Plaisance
Parc National de Plaisance comprises an archipelago of islands and peninsulas on the Ottawa River between the towns of Thurso and Papineauville. Over a quarter of the park is wetlands. The rest includes several lovely sections of highly diverse forest, but consists mainly of fallow land, a holdover from the area's agricultural past. Most of this land was cleared during colonization under Papineau beginning in 1805. The areas least suitable for farming were left untouched and make up the forested parcels today.
The Carillon Dam 
Between 1963 and 1967 human activity again left a significant mark on the area: the Carillon Dam was built on the Ottawa River, about 60 km downstream from the park site. The impact was dramatic. The water level rose by around 1.5 m, flooding shoreline bays and marshland forests, and creating several new wetland habitats. Much of the land in the flood zone was expropriated by Hydro-Québec (20 families in the park area were affected). Most of the expropriated land was left alone, leaving nature to take over again.
Ducks Unlimited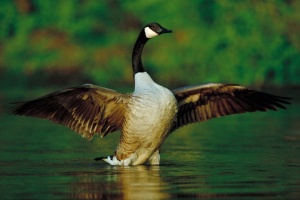 In the early 1970s, the organization Ducks Unlimited took action to restore the habitat on the lands newly acquired by Hydro-Québec to better meet the needs of waterfowl. Several artificial ponds were dug in existing depressions and dykes were built to better hold water in the new bays formed along the river. These actions enlarged the area suitable for nesting. These manmade marshlands not only benefited waterfowl but also helped attract other species of wetland birds, mammals and fish.
In this way the combined impact of farming, logging, the Carillon dam and wetland enhancement by Ducks Unlimited created the conditions for the astounding biodiversity the park boasts today. Little did anyone know that the expropriations and subsequent enhancement initiatives would help lay the groundwork for today's provincial park.
Dollard-des-Ormeaux Park 
Following the expropriations of the1960s, Hydro-Québec established several campgrounds and recreation areas on expropriated municipal land as a compensation measure. Dollard-des-Ormeaux Park on the Petite-Presqu'île peninsula was a case in point. Created in 1968, it featured a campsite, a pool and three picnic areas. The rest of the area was mostly used for wildfowl hunting and muskrat trapping, although certain hundred-hectare parcels were also leased for farming. In 1979, the Plaisance wildlife reserve was created. Trapping, fishing, hunting and camping remained the main activities, but as time went by, awareness of the area's environmental importance and ecotourism potential grew. 
2002: A Provincial Park is Created 
As local stakeholders and various levels of government grew increasingly concerned about environmental protection, the stage was set for the wildlife preserve to be repurposed. Plaisance was made a protected area on March 22, 2002. In creating the park, the government officially recognized the heritage value of the site and made a commitment to protecting it for the benefit of present and future generations. Preserving this small but lush archipelago was all the more critical as it was surrounded by farms and towns that threatened its integrity.
Islands and Peninsulas Alive with Song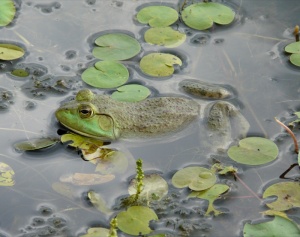 Over 250 species of birds have been sighted in the park to date (NOTE 1). It thus comes as no surprise that birdwatchers have long recognized Plaisance as one of the best observation sites in Quebec. The park's reputation is built on the wide variety of habitats it supports and its location on a major waterfowl migration route. Every spring and fall the park comes alive with thousands of ducks and geese, birds of prey and migrating passerines travelling between their breeding grounds and wintering areas. 
Close to half of all mammal species recorded in Quebec—around 40 in total—can be found in the park. The most common are the white-tailed deer, common muskrat (with over 1,000 muskrat lodges built every year), woodchuck, eastern chipmunk, red squirrel, racoon and beaver—the park is home to the largest concentration of beaver colonies in Quebec(NOTE 2). An experienced (or lucky) wildlife observer may also be fortunate enough to see coyotes, red foxes, black bears, moose, otters, and mink. But when it comes to wildlife observation, reptiles are the real stars, with three species of turtle—painted, snapping and map—especially prized. The painted turtle is the most common of the three, and along with the snapping turtle the easiest to observe, especially during breeding season in June. Plant life is also rich: around 500 species have been recorded so far. Over 40 species of plants and wildlife are either at-risk, endangered, vulnerable or likely to be so; they benefit from the protection afforded by Parc National de Plaisance.
Protection, Conservation―and Access 
The mission of Quebec's provincial parks, set out in the Parks Act, is as follows: "to ensure the conservation and permanent protection of areas representative of the natural regions of Québec and of natural sites with outstanding features, in particular because of their biological diversity, while providing the public with access to those areas or sites for educational or cross-country recreation purposes"(NOTE 3). 
Given the substantial pressure from human activity outside the park, the twin notions of conservation and access may appear to be at odds. Indeed, you have to visit this small 28.1 km2 enclave at least once to truly understand the importance of its protective role. To reconcile these two missions, several measures have been implemented; the three most important are zoning, regulation and habitat restoration. Parc National de Plaisance has three service areas where higher-impact human activities are concentrated, including the campgrounds, road network, and service centres. Certain sectors are designated as preservation zones and closed to the public, notably all the park islands, several valuable old-growth forests and a number of areas of high archeological potential. The rest of the park is what Sépaq calls a "natural environment zone" (zone d'ambiance) where outdoor activities like hiking and cycling are concentrated, along with rest, picnic and observation areas. 
An additional protective measure has also been put in place by the Quebec government: a special regulation requiring visitors to always stay within designated areas. In addition, the regulation prohibits certain activities like hunting, trapping, snowmobiling and quadding (ATVs). A parallel initiative allows the park conservation team to conduct annual research and knowledge acquisition projects to improve their knowledge of the park and better advise management as to the appropriate actions to take to protect the park.
Unearthing and Preserving the Area's Human Heritage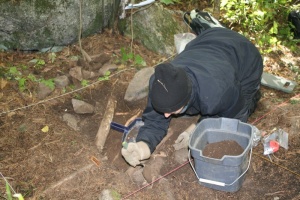 In 1987 an inventory of archeological sites was carried out in the Papineau Regional County Municipality (RCM). The inventory confirmed the presence of four prehistoric sites within park boundaries. Unearthed artefacts date from the Woodland Period (2,500–500 years ago). Sites of archeological value were mapped to guide park authorities when planning future developments. It was not until 2007, however, during construction of a bike path, that archeological digs shed new light on prehistoric human habitation in the area. 
Research has confirmed not only that First Nations occupied the area during the Woodland period, but were also present all the way back to the Paleo-Indian period. There is evidence of quartz carving and domestic activities in the area over 7,500 years ago. Another important find was a First Nations burial site dating from the beginning of the 17th century: it helps shed light on the extent of the aboriginal presence in the area during the period of first contact with French colonists. In 2009 archeologist Marcel Laliberté drafted a report which concludes that "this period is precisely what sets apart the sites in Parc National de la Plaisance from other better known archeological sites or complexes in the Ottawa valley such as Morrison and aux-Allumettes islands, Leamy Lake Park, and Rocher-à-l'oiseau; this could make Parc National de Plaisance one of the most important protected archeological sites in Quebec." 
Other archeological fieldwork will be carried out in the coming years to learn more about the area's history. In the medium and long term, certain of the park's archeological sites could be developed and presented to visitors. 
Discover the Park!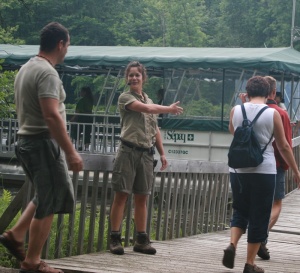 Visitors to Parc National de Plaisance are in for a surprise when they first experience the park. Nicknamed the "bayou of the north," the park is a great place to observe wildlife. The landscape and flora offer a feast for the eyes for those who know where to look, as the park changes its stripes with the seasons—sometimes even with the passing weeks and days. Abandoned fields burst into bloom with thousands of wildflowers in July, while the open water gives way to magnificent floating gardens that spring to life, and die, within a single season. 
Park naturalists offer interpretation activities on the archeological treasures, animal and plant life and local history of Parc National de Plaisance. These are valuable opportunities to learn more about the area's first human inhabitants, the marshlands, the turtles, the birds and the mammals in this exceptionally rich area. Hikers and cyclists enjoy over 25 km of mixed-use paths and 8 km of hiking-only paths. Canoes, kayaks and rowboats are also available for rent. Campers can choose between unserviced, serviced and "ready-to-camp" options or rent a yurt or cabin. In 2008 park use totalled 100,000 person-days—just the right amount to maintain the park's peace and quiet without placing undue pressure on plant life and wildlife.
Jean-François Houle
Manager, Conservation and Wildlife
Parc National de Plaisance
NOTES
1. Nearly 80% of all species recorded in Quebec
2. Of areas in Quebec where trapping is not practiced (e.g., protected areas)
3. Parks Act R.S.Q., chapter P-9, 1 (b)
BIBLIOGRAPHY
Baribeau, Claude, La Seigneurie de la Petite-Nation 1801-1854 - Le rôle économique et social du seigneur, Asticou, Québec, 1983, 166 p.
Dignard, Norman, Les plantes susceptibles d'être désignées menacées ou vulnérables du secteur de Plaisance, Rivière des Outaouais, Québec - Rapport complémentaire (baie Lochaber - baie Noire), Ministère de l'Environnement et de la Faune, Direction du plein air et des parcs, Québec, 1994, 20 p.
Laforte, Esther, Inventaire des sites archéologiques sur le territoire de la municipalité régionale de comté de Papineau - Rapport préliminaire - volume I, MRC de Papineau, Québec, 1987, 213 p.
Laliberté, Marcel, Évaluation d'un site archéologique potentiel au parc national de Plaisance-corridor de la Route Verte, SÉPAQ, Québec, 2007, 37 p.
Laliberté, Marcel, Inventair earchéologique du tracé de la Route Verte dans les limites du parc national de Plaisance, CLD Papineau et SÉPAQ, Québec, 2007, 29 p.
Laliberté, Marcel, Évaluation complémentaire du site BjFs-10 - parc national de Plaisance, SÉPAQ et MCCCFQ, Québec, 2007, 31 p. et annexes.
Laliberté, Marcel, Les recherches archéologiques de 2008 sur le site BjFs-10 - Parc national de Plaisance, SÉPAQ et MCCCFQ, Québec, 2009, 31 p et annexes.
Lavigne, Hubert, Parc Dollard-des-Ormeaux, Hydro-Québec, Québec, 1963, 118 p.
Lepage, Michel, Aménagement des marécages de la rivière des Outaouais entre Thurso et Papineauville, Ministère du Tourisme, de la Chasse et de la Pêche, Service de la faune, Québec, 1973, 62 p.
Pomerleau, Raymonde, Parc de Plaisance : le plan directeur provisoire, Ministère de l'Environnementet de la Faune, Direction du plein air et des parcs, Service de la planification du réseau des parcs, 1996, 236 p.
Société des établissements de plein air du Québec, Le parc de Plaisance : une synthèse des connaissances, Québec, 2002, 129 p.
Images
Document PDF
Catégories