Fransaskois Music and Song
par Gareau, Laurier
In 2006, on the occasion of the 100th anniversary of the founding of the Town of Gravelbourg, the a cappella group Octopus released its first compact disc…after 43 years of existence! Formed in 1963 at College Mathieu by Father Fernand Binette OMI, this Fransaskois group would undergo many changes and enjoy much success over the years. Its long existence, in close association with College Mathieu in Gravelbourg, is part of the history of French-language song in Saskatchewan. Singing has always played an important part in Fransaskois cultural life; it has been a means of expression, a reason for getting together, and a source of identity. Singing took several different forms over the 20th century: patriotic songs, festivals, boîtes à chansons, choral singing, and the emergence of Canadian stars like Hart Rouge. Today, while economic problems clearly exist, French-language music is still very much alive in the Fransaskois community.
Article disponible en français : Musique et chanson fransaskoises
Building a Cultural Heritage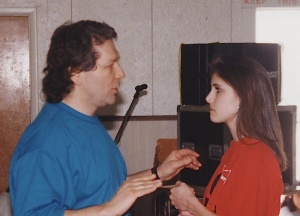 French-language singing, which began very humbly at the end of the 19th century in Saskatchewan, is still very much alive today. Several cultural activities have not only allowed Fransaskois music to survive but they have fostered the blossoming of new talent. Singing competitions are organized in Fransaskois schools and the Concours RAMDAM is held for young musicians, while the Gala fransaskois de la chanson and Chant'Ouest provide marvellous performance opportunities for artists. These competitions are not only talent contests; they include significant training components. The Conseil culturel fransaskois engages experienced artists to provide musical coaching. Such efforts have had positive results: young artists of the future, several of whom have been awarded prestigious prizes at various national galas, have released albums in recent years and they perform regularly on the national stage.
It has also been possible to draw on Fransaskois heritage to revitalize some aspects of contemporary culture. For example, Annette Campagne has revived the Fransaskois tradition of choral singing with Gospel. In 2010, with the support of the Conseil culturel fransaskois and the Institut français in Regina, she assembled 100 choir members from around the province for two major concerts, Plaine de Gospel, one in Gravelbourg in June, and another in Saskatoon in November. In spite of significant structural challenges, Fransaskois music is here to stay.
Early Musical Influences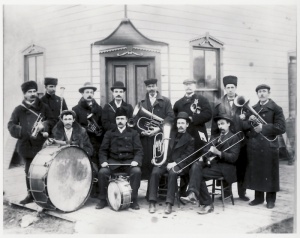 Without taking into account French-speaking Métis homes, French music in Saskatchewan appears to have begun in the Whitewood area around 1885. At that time, several noblemen from France settled in the area to farm, and they felt it was important to share their culture with their new country, in the very early years of its development. At the Rolanderie (near Whitewood and Saint Hubert in southeastern Saskatchewan) these families took part in the social life of the area. Some of the counts even brought out their musical instruments to play in a local band; a photograph from the time shows them with the members of the Whitewood town band. It is easy to identify Count de Jumilhac (small bugle), Count de Soras (cornet), Robert de Wolfe (clarinet) and Count de Langle (drum) (NOTE 1).
Later, at the beginning of the 20th century, when all corners of the new province of Saskatchewan were humming with colonization activity, one event gained popularity in small communities: the village or parish "concert". Heavily inspired by American vaudeville, such "concerts" were a mix of theatre, singing, piano recitals and even tap dancing. Of course, Father Gadbois' songbook, La Bonne Chanson, was found in most homes. And, like many Métis homes of the period, almost all French-Canadian homes in Saskatchewan were sure to have a violin, a piano, a guitar, an accordion or a harmonica.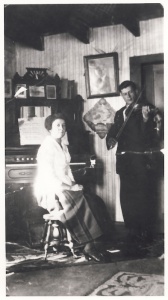 The many excellent musicians from the Métis and Francophone communities lived in the same areas and knew each other in the early years of the last century. Some got together to form orchestras, or brass bands as they were known. Jos de la Gorgendière, Gaston Dubois and Raoul Saint-Denis of Duck Lake formed a group that played a mixture of traditional melodies, square dances and popular modern tunes. In Gravelbourg, there was the Adolphe Huel Band, founded in 1924, while Laflèche had the Bourassa Band, founded by Tablado Bourassa.
A number of choirs, like the one in Willow Bunch, were also formed in this period. Organized by the local Saint-Jean-Baptiste Society, the choir was made up of twenty-six male singers, under the direction of Dr Arsène Godin. A similar choir established in Gravelbourg, L'Association Philharmonique et la Chorale de Gravelbourg, had limited success.
Music in Catholic Colleges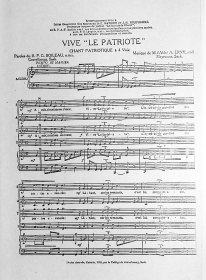 After it was founded in 1918, the Collège catholique de Gravelbourg relied on music and sports to build its reputation. From its earliest days, it was able to establish its musical reputation with its brass band. Because they understood the positive effect of music and they recognized that music education and music appreciation should be included in a good general education, the founders of the college accorded great importance to the study of musical theory and to musical performance (NOTE 2).
It was also at this time that some priests from the Gravelbourg area, like Father Georges Boileau OMI and Father Louis-Pierre Gravel, wrote a series of patriotic songs. It appears that Father Boileau wrote the words to many of these songs and he recruited Father Henri Gervais, OMI, Father A. Erny, along with E.-H. Chatillon, Pierre Gautier, J.-L. Paquet and J.-A. Contant, to compose the music. The original copies of at least twelve of the songs can still be seen today, in the archives of the Gravelbourg Co-Cathedral. These are: Le Doux Parler Ancestral (Boileau-Gervais), L'Hymne de Gravelbourg à la Vierge Immaculée (Boileau-Gervais), Vive Le Patriote (Boileau-Erny), Le Baiser de la Langue Française aux Petits de Chez-Nous (Boileau-Chatillon), Stances Patriotiques des Écoliers de Langue Française à la Vierge Immaculée (Boileau-Gervais), Le Blé Qui Lève (Boileau-Gervais), La Patrie (Boileau-Gautier), L'Éclosion des Berceaux (Boileau-Paquet), Floraison de Lys au Canada Français! (Boileau-Contant), La Survivance de Dollard des Ormeaux (Boileau-Gervais), À l'Avant-Garde! O Dollard des Ormeaux! (Boileau-Contant) and Reviens Dollard... Combattre Jusqu'au Bout! (Boileau-Chatillon).
Surviving the Difficult Years
The economic crisis of the 1930s slowed the musical progress of Saskatchewan's French-Canadian community but it did not completely destroy it. In spite of the poverty and dispair of the time, getting together to sing and to dance was an important family activity. After the Depression and then the Second World War, efforts were made to revive interest in French-language singing, particularly with the arrival of French radio in Gravelbourg (CFRG) and Saskatoon (CFNS) in 1952. The 1950s were the golden age of festivals of song. Father Roger Ducharme, school visitor for the Association catholique franco-canadienne de la Saskatchewan (ACFC), was, for many years, one of the moving forces of this event in southern Saskatchewan. Every year, he managed to bring together choirs and soloists from convents and country schools from across southern Saskatchewan for a major festival, invariably held in the College Mathieu gymnasium in Gravelbourg. Some 300 to 400 students took to the stage to make their voices heard. There was a similar festival in the northern part of the province but it does not appear to have been as successful as the one organized by Father Ducharme.
Boîtes à chansons, coffee-house style musical events, also gained considerable popularity in the province during the 1960s; they fostered the emergence of such artists as Henri Loiselle, Claudette Bouffard, Les Shenandoes and a number of others. At the end of the sixties, the choir Les Voix du printemps began in Saskatoon, under the direction of Louise Haudegand. This choir was very successful until it lost its director.   
College Mathieu and the Beginnings of Octopus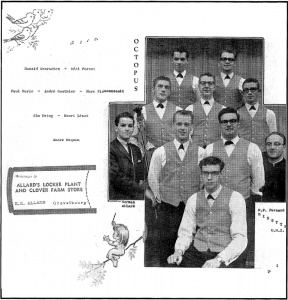 In 1963, Father Fernand Binette, OMI, selected the eight best adult male voices from the College Mathieu Choir to form a new group, Octopus and it went on to make its mark in the province. The original group was made up of Réal Forest, André Gauthier, Henri Léost, Henri Lepage, Denis L'Heureux, André Moquin and Paul Morin, all from Gravelbourg, and Léo Pinel, from Moose Jaw. "Many Fransaskois and […] former College Mathieu students can remember hearing the musical group, Octopus […]. The group specializes in a capella music, folk songs and popular music." (NOTE 3) Accompanied by Father Omer Desjardins, OMI, on piano, the group performed for many years, with new singers replacing those who left. Three former College students, Réal Forest, Henri Lepage and André Moquin, were members of the group for the entire period of its existence. After the release of its only CD in 2006, having served as the principal ambassadors of Fransaskois singing for more than 45 years, the group decided to retire and make way for other singers and groups.
In the fall of 1971, a former student, Donald Sirois, returned to College Mathieu and he began the MAT, thus founding an institution that would become as well-known as Octopus. Surrounded initially by talented students like Gerry Pittet, Phillip Fournier, Solange Campagne and Julien Poulin, Sirois was able to create a training ground for future Fransaskois singers and musicians. Several other members of the Campagne family (Paul, Carmen, Annette and Michelle) followed their sister Solange as members of the MAT, and their older sister, Suzanne, was its director for a few years at the end of the 1970s (NOTE 4). Numerous other musicians and singers, like Andrée Noonan, Lisa Hounjet (Leezjah), Cathy Chouinard (Clemonica) and Charles Dumont, began their careers with the MAT. While the MAT still exists, College Mathieu is no longer what it was, with a high school enrolment of only 25 students (2009 figures). As a result, the group is no longer as dynamic as when there were 150 or 200 students at the Collège.
The Spread of Fransaskois Music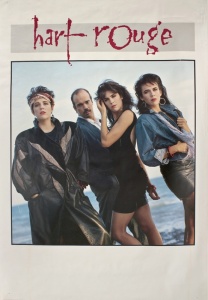 In the 1980s, the group Hart Rouge and the singer Carmen Campagne gained national recognition, while Julien Poulin performed very successfully in schools in Western Canada and, through them, Fransaskois music was exported and spread beyond the province. In Saskatchewan, groups like the Association des artistes de la Saskatchewan (AAS) and the Conseil culturel fransaskois joined forces to create a program for the development of future Fransaskois musicians. In 1990, the AAS organized the first Gala fransaskois de la chanson in Prince Albert. Andrée Noonan (writer/composer/performer) and Béatrice Gaudet (performer) were the first two winners of this competition. Fuelled by a desire to see further development, Craig Pollock and other members of the AAS worked tirelessly to establish the program Initiation professionnelle à la chanson (InPAC) to complement the Gala provincial de la chanson. The Gala renewed interest in singing in French in Saskatchewan. In Regina, this led to the creation of Fou du roi at the beginning of the 1990s, and artists like Andrée Noonan, Joël Findlay, Béatrice Gaudet (Mama Bea et les Bon Temps Playboys) and even Donald Sirois staged musical performances.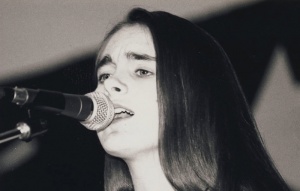 Several other Fransaskois artists, such as Danielle Hudon, Alain Pomerleau and Leia Lang emerged after 1990 ; however, the most successful singer was undoubtedly the young and talented Anique Granger. In March 2009, she received the award for Best Francophone Album in Western Canada at the Prix Trille Or in Ottawa. Leia Lang (2005), Scott Richmond and Véronique Poulin (2008), and Alexis Normand (2010) represented the West at the prestigious Festival international de la chanson de Granby. Shawn Jobin was a finalist for Best Francophone Album at the Western Canadian Music Awards in 2010 in Kamloops, British Columbia. Several young artists, including Anique Granger, François Tremblay, Annette Campagne, the Raquette à claquettes, the Cireux de semelles, Jean Bilodeau, Shawn Jobin and Alexis Normand have released recordings in the last few years.
Ensuring a Future for Fransaskois Music
The socio-economic circumstances of recent years have been difficult for the Fransaskois and this has affected the performance arts. Too many excellent Saskatchewan musicians and singers continue to choose to pursue their careers in English because they do not have the support of a group like the 100 NONS in Manitoba or the Centre de développement musical in Alberta. The Association des artistes de la Saskatchewan no longer exists, a victim of budget cuts by the federal government in the 1990s. However, while the Fransaskois community may not be as vibrant as it was even 15 years ago, its musical traditions endure. For example, in spite of an almost total lack of funding, the Conseil culturel fransaskois, with the support of Radio-Canada radio, has succeeded in maintaining the InPAC program and the Gala fransaskois de la chanson.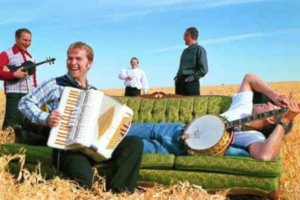 Every effort is being made to encourage the younger generation. A Saskatchewan version of Secondaire en spectacle (High Schools Perform) was begun in francophone schools a few years ago by the Conseil culturel fransaskois. This project was taken up and carried on by the Conseil des écoles fransaskoises. The Fête fransaskoise also helps to create enthusiasm for Fransaskois music and song. However, a lack of human and financial resources limits the impact these activities have on the development of future musicians. The Association jeunesse fransaskois is trying to fill the void with a competition for young musicians, the Concours RAMDAM. Through its musical training programs, the Conseil culturel fransaskois gives musicians access to the expertise of an excellent team of coaches, including Annette Campagne, Dave Lawlor, Philippe Fournier, Francis Marchildon, Jean Bilodeau, Christie-Anne Blondeau, Michel Lalonde and Alexis Normand.
While the Fransaskois community may be struggling to find an identity, French-language music and song in Saskatchewan seem to be entering a new period of growth. Through the musicians, perhaps the word FRANSASKOIS will resound once more.
Laurier Gareau
NOTES
1. Laurier Gareau, «L'activité culturelle et artistique dans la communauté franco-canadienne de la Saskatchewan au début du XXe siècle», Revue historique, vol. 5, no4 (April 1995), p. 1.
3. Paul Heppelle, «Octopus», Revue historique, vol. 17, no1 (September 2006), p. 1.
4. Annette Champagne was also the director of the MAT for a time, beginning in 2000. 
Images
Hyperliens
Catégories