Brother André, Founder of Saint Joseph's Oratory
par Bélanger, Diane
Brother André, a man of the people, orphan, worker of modest means and humble brother of the Holy Cross, hardly seemed destined for great things. Yet for over a century, his name has been associated with one of the world's biggest Christian shrines, Saint Joseph's Oratory on Mount Royal in Montreal. Pilgrims flock to the basilica that he had built and masses are celebrated there daily. But in keeping with Brother André's wishes, the hallmark of the Oratory is the care and attention paid to the sick and the suffering. Brother André's compassion for others and the scope of his accomplishments are a valued part of Quebec's cultural heritage.
Article disponible en français : Le frère André, fondateur de l'Oratoire Saint-Joseph
The Spiritual and Cultural Heritage of Brother André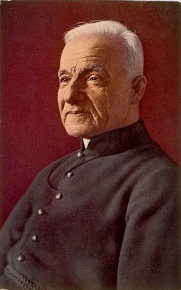 Brother André left us with a rich spiritual and cultural legacy—the Oratory dedicated to Saint Joseph, the discreet and dutiful family man venerated by Brother André and many of his fellow French Canadians. Indeed, the huge basilica is a monument to the French Canadian filial devotion that Brother André expressed so well. For 50 years, this soother of troubled souls welcomed, listened to, consoled and sometimes healed countless visitors, all in the name of Saint Joseph. Sometimes gruff, sometimes teasing, he gave counsel and urged those who sought him out to reflect, pray and trust in God's goodness, but also to accept suffering and human imperfection. Upon his death at age 91 in 1937, one million people—one-third of Quebec's population at the time—turned out to pay their last respects to the man they affectionately called "le bon frère André." The Oratory's liturgical ceremonies, architectural heritage, works of art and mountainside gardens all bear witness to the fervour inspired by Brother André.
Today, Saint Joseph's Oratory is one of Montreal's leading tourist attractions. Visitors come to pray, seek favours or healing, listen to concerts or admire the remarkable architectural and cultural features, including the walkway and staircase leading to the entrance, the basilica, the Way of the Cross, the 1904 chapel, the crypt, the votive chapel and numerous works of art.
A Humble Porter
Brother André, whose real name was Alfred Bessette, was born into a poor family on August 9, 1845, in the town of Iberville south of Montreal. At age nine, young Alfred, who was a frail child, lost his carpenter father to a logging accident. His mother, exhausted and sick with tuberculosis, died three years later. Alfred was put up for adoption and had to make a living despite his lack of education and his delicate constitution. He held all manner of jobs, even seeking work in the United States. Upon his return to Canada, he was encouraged to enter the Congregation of the Holy Cross by his parish priest, Father André Provençal, who wrote to the superior, "I am sending you a saint." The devout Alfred took the name of Brother André, in memory of the helping hand received from his protector.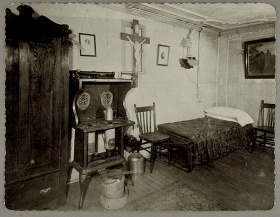 Humble and with little formal education, he was appointed porter at Collège Notre-Dame de la Côte-des-Neiges. Years later, he would say with his characteristic humour, "When I entered this community, my superiors showed me the door, and I remained there for 40 years." He lived in a tiny little room, often spent the night praying, and handled all manner of chores. Soon, visitors to the college began to confide in the little man greeting them at the door. He would listen carefully and dispense a few words of advice. Brother André also worked as a nursing aid, caring for the sick. He urged them to pray to Saint Joseph and would often go pray himself on the mountain, where he placed a small statue of Saint Joseph in a tree. To get there, he would climb a rocky pathway, sometimes accompanied by students and colleagues.
Gradually, he began to earn a reputation as a healer. As more and more people began flocking to the college, his superiors began to wonder what was going on. Did Brother André, himself in ill health—his fragile stomach would only tolerate soup or gruel—have the gift of healing, or was he simply a slightly dotty eccentric wont to repeat to anyone willing to listen, "I am nothing… only a tool in the hands of Providence, a lowly instrument at the service of Saint Joseph"? Regardless, Brother André left no one indifferent. Some labelled him a "charlatan" or "anointer," because he would sometimes anoint the bodies of the sick with oil that had burned before the statue of Saint Joseph. Others followed his advice and were astonished by the results. There was a constant crowd of people at the college entrance, and when the telephone was installed in 1890, it often rang for "good Brother André."
The Little Chapel on the Mountain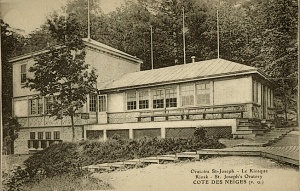 The college portico was becoming increasingly unsuitable for all the visitors. When a small streetcar station was built opposite the college in 1896 for the new electric tramway line circling Mount Royal, the community "authorized" Brother André to use it to welcome his visitors.
But Brother André had other plans. He had long dreamed of building a small chapel to Saint Joseph on the slopes of the mountain, a place he considered sacred and conducive to prayer. The congregation did not have the funds to buy the land, so Brother André set out a collection bowl to gather donations. Before long, the $10,000 purchase was made, and in 1904, Brother André realized his dream with the help of his colleague and master carpenter, Brother Abundius. By this time, Brother André was nearly 60 years old. Yet despite his fragile health, he continued to welcome the sick at the chapel during student summer vacations, when he was relieved of his porter's duties. As the crowds continued to grow, benefactors offered money to enlarge the chapel. Heating was installed in 1908, and the chapel was expanded again. This time, a small room was added for Brother André, who soon was appointed the custodian of Saint Joseph's Oratory.
On May 1, 1908, Father Dion, the superior of the Congregation of the Holy Cross, evoked for the first time a case of healing. Church officials remained very cautious, but the people put their faith in the little brother now known as "the miracle worker of Mount Royal." Hundreds queued up daily to see him. As was his custom, Brother André would listen to their troubles and commiserate with them, then urge them to pray and place their trust in God and Saint Joseph. Their faith continued to grow, and although it did not "move the mountain," it provided the foundation on which one of the most beautiful shrines in North America would be built. Brother André died on January 6, 1937, at the age of 91, and never saw the basilica completed. But his presence remained a powerful force at the Oratory, and a number of his projects were completed after his death, securing his place in Quebec's heritage pantheon.
The Votive Chapel and Brother André's Tomb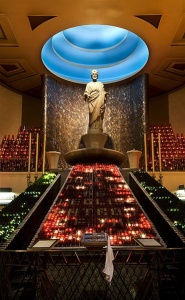 The votive chapel, built between 1946 and 1949, is the work of architect Louis Parent. It contains hundreds of ex-votos—crutches, canes and other prosthetic aids left as mementos by the sick and disabled for favours and cures that Brother André is said to have obtained by interceding with Saint Joseph. All of the ex-votos displayed date from Brother André's time. Some 10,000 vigil lamps, regularly lit by worshippers, light the chapel, creating an atmosphere of prayer. The walls of the chapel are decorated with bas-reliefs by sculptor Joseph Guardo. They represent different titles attributed to Saint Joseph, including model for workers, consoler of the afflicted and support of families.
Behind the central lamp stand is Brother André's funeral chapel. His body lies beneath a black marble tomb donated by then Quebec premier, the Honourable Maurice Duplessis, a friend of Brother André. The fresco painted by Henri Charlier bears the inscription "Poor, obedient, humble servant of God." On the opposite wall is a bust of Brother André, along with the registers signed by ten million people in support of his canonization.
The Way of the Cross on the Mountain
The Way of the Cross and surrounding gardens were also part of Brother André's dream, dating from his days tending the college flowerbeds. He wanted to create an oasis of peace on the mountain, a place of meditation and prayer dedicated to the mystery and passion of Christ, and so was born the idea for a Way of the Cross. The ensemble is made up of 17 sculptures produced by Montreal artist Louis Parent between 1943 and 1953. The gardens were designed by landscape architect Frederick G. Todd.
The Canonization of Brother André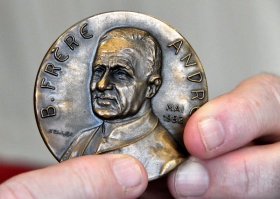 Brother André's contemporaries recognized him as a saintly man well before his death in 1937. His kindness, wisdom and compassion were legendary. However, the Roman Catholic Church's official canonization process took much longer. Against the backdrop of 20th century science and rationality, Church policy was to painstakingly analyze miracles and only recognize those that were "scientifically unexplainable" before proceeding with beatification and sanctification. Brother André was declared venerable in 1978 by Pope Paul VI, then beatified by Pope John Paul II in 1982. After a case of "unexplainable" healing was recognized, Pope Benedict XVI finally made the official announcement on February 19, 2010: Brother André would be canonized at a ceremony in Rome on October 17, 2010.
"Have faith, you must have faith"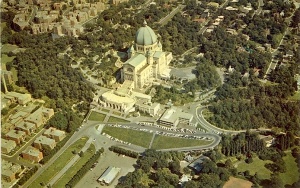 During his many years as the custodian of Saint Joseph's Oratory, Brother André welcomed visitors and the sick to his little office, which he nicknamed his "bourreau." It is possible to view a reconstitution of the spartan little office in one of the rooms adjoining the basilica. Visitors can also see Brother André's bedroom in the loft of the original mountainside chapel.
In many ways, the history of Saint Joseph's Oratory is indissociable from that of the modest man who sought to ease the suffering of his fellow citizens. Humble Brother André touched his compatriots with his simplicity and genuine compassion. He did not see himself as a healer. He encouraged people to pray, to seek medical attention and to trust in God's goodness. A man of his time, he would say, "If the soul is sick, one must begin by treating the soul." Brother André's unswerving faith may seem odd today. But the importance of his spiritual, cultural and heritage legacy lives on. Worshippers continue to seek his intervention, and Saint Joseph's Oratory on Mount Royal remains a focal point for Catholics not only in Quebec, but across North America, as well as a universal sacred site and a place of peace and hope open to all. In addition, the Oratory and its grounds constitute an architectural and artistic complex of exceptional value.
Diane Bélanger 
Catta, Étienne, chanoine, Le frère André et l'oratoire Saint-Joseph du Mont-Royal, Montréal et Paris, Éditions Fides, 1964, 1146 p.
Deroy-Pineau, Françoise, L'étrange destin d'Alfred Bessette dit frère André, Montréal, Éditions Fides, 2004,155 p.
Dubuc, Jean-Guy, Le frère André, Montréal ,Éditions Fides, 1996, 235 p.
Le guide de l'Oratoire Saint-Joseph du Mont-Royal, Montréal, Oratoire Saint-Joseph, 2004, 29 p.
« L'Oratoire Saint-Joseph du Mont-Royal », site internet consulté le 16/02/2010 [En ligne], http://www.saint-joseph.org
Nadeau Denise, Le frère André, Collections Célébrités canadiennes, Montréal, Lidec inc., 1993, 60 p.
Robillard, Denise, Les merveilles de l'Oratoire. L'Oratoire Saint-Joseph du Mont-Royal, 1904-2004, Montréal, Éditions Fides, 2005, 486 p.
Tanguay, Caroline, sous la dir. de Jean-Claude Marsan, Analyse des valeurs patrimoniales du site et des bâtiments de l'Oratoire Saint-Joseph du Mont-Royal, Montréal, mai 2001, 100 p.
Images
Vidéo
Hyperliens
Catégories