Royal 22e Regiment
par Pépin, Carl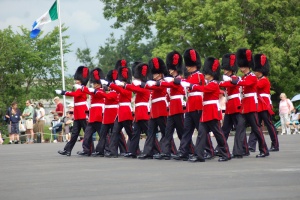 The Royal 22e Régiment (R22R) is one the three infantry regiments of Canada's Regular Armed Forces that has its headquarters in the Citadel of Quebec City. It is a French-speaking regiment that is composed of five battalions, of which three are in the Regular Armed Forces and two are part of the Reserve Forces. The regiment took part in all major conflicts in which Canada was involved since World War I; from the peacekeeping missions of the United Nations to the campaign in Afghanistan. Today, its rich history and heritage, both tangible and intangible, is being promoted in various ways in the very heart of Quebec City.
Article disponible en français : Royal 22e Régiment
The Role and Mission of the Royal 22e Regiment
The regiment is essentially composed of soldiers from Quebec who serve Canada on a variety of different operations both at home and abroad. The regiment's first three battalions are part of the Regular Armed Forces and are comprised of two battalions of mechanised infantry (1st and 2nd) and of one light infantry (3rd). As for the 4th and the 6th battalions, they are composed of reserve troops stationed in Laval (4th) and in Saint-Hyacinthe (6th).
Operating in an environment where the working language is French, the soldiers of the R22R are volunteers who carry out the various tasks that are specific to this kind of military unit. This includes being stationed in garrisons, maintaining and consolidating peace, engaging in skirmishes and battles, etc. Consequently, the R22R battalions are required-at any time of day and at a variety of locations on the planet-to take part in missions for which the Canadian government needs a military presence.
More than just an infantry battalion, the R22R is also a military institution that holds an important place in Quebec's cultural heritage. It is Quebec's most important regiment in terms of strength and the most effective one for carrying out missions. Thousands of Quebeckers have served in its ranks since it was created in 1914, both during combat missions and during peacekeeping operations. As a result, the regiment has established oral and written traditions over the years. In Canada and abroad, many monuments commemorate the unit's activities past and present.
The Accomplishments of the First French-Canadian Regiment
Established in October 1914, at the beginning of World War I, the R22R was then known under the name of 22e bataillon (French-Canadian). The unit was created in response to a popular demand from people who wanted to have a regiment under which French-Canadians could serve in their native language. The 22e was the only active French-speaking infantry battalion on the warfront to serve in the Canadian Corps. The battalion arrived on the front line in Belgium in September of 1915.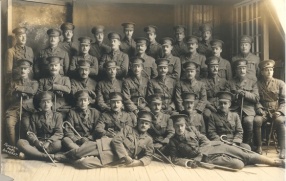 The 22e fought in many battles between 1915 and 1918. Their first serious encounter took place at Courcelette in France in September of 1916. For three days and three nights, surrounded on all sides, French-Canadian soldiers under the command of lieutenant-colonel Thomas-Louis Tremblay were able repel the enemy's repeated assaults and hold the village until reinforcements. Out of the 850 men who fought in this battle, only 118 remained three days later. Reinforced on more then ten occasions during the war, the 22e fought until the end of the conflict in November of 1918.
Another major operation was the battle of Chérisy, near Arras in the north of France, on the 27th and 28th of August, 1918. On the day of the 27th, the 700 men of the 22e bataillon under the command of majors Arthur Dubuc and Georges Vanier launched an assault against German positions in Chérisy. Thirty six hours later, when the battalion was removed from the front line, there remained only 39 men and of the 23 officers who lead the attack, none came back unscathed.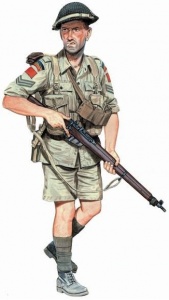 When the battalion returned to Canada in May of 1919 it was disbanded, but later in 1920 it was reactivated in order to become part of the Permanent Active Militia under the name of 22e Régiment. In June of 1921 it was granted the title "Royal" by King George the 5th of England, in recognition for its feats of arms in Belgium and France during the Great War (I). It was in 1928 that lieutenant-colonel Georges Vanier gave the regiment the French name it now bears, the Royal 22e Régiment.
When World War Two broke out in September  of 1939 the R22R was mobilised and sent to England at the end of that year. The regiment remained on the Italian front during almost the entire war. It landed in Sicily in July of 1943 and was pulled out in February of 1945, while it was posted in the north of Italy. From March to May of 1945, the regiment joined the Canadian troops that were then fighting in Holland and in Germany.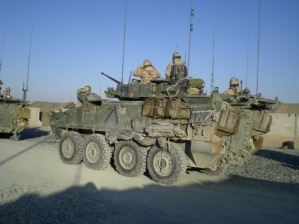 It was during the Korean War that the R22R saw its numbers increased, as it went from one to three battalions.  One after the other, all three fought in the Korean Peninsula between 1951 and 1953. Over the following decades, the regiment was then asked to carry out peacekeeping missions for the United Nations. Among its most important missions was carried out in Cyprus from 1964 to 1992, as well as a series of missions in Ex-Yugoslavia (from 1992 to 2001 under the UN and NATO). It was also present in Haiti during the late 1990s. In 2007, forces from various units within the 3rd battalion of the R22R were sent to Afghanistan as part of NATO's International Security Assistance Force in the Kandahar province. In 2009, military personnel from the 2nd battalion of the R22R served in the same region. In 2010, troops from the 1st battalion are to undertake a similar mission.
The Regiment's Tangible and Intangible Heritage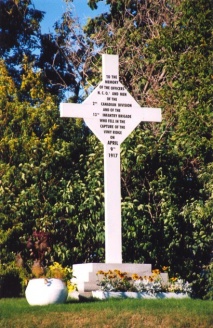 The Royal 22e Régiment is a military unit with various customs and traditions that are rich with meaning. These traditions and customs are in essence rituals that give regimental life its distinctive flavour and symbolic emblems. These allow for each member to identify themselves with the group, as well to allow outside observers to easily identify the group.
The many rich and varied symbols of the R22R are so much of what it has become since 1914. The regiment's most treasured symbol is its colours [flag], which represents the body and soul of the unit as much as it embodies its pride and honour in serving. It must be noted that many of these symbols, such as the colours and the Vimy Cross planted at the Citadel of Quebec, were adopted during World War I. The wooden cross was erected by Canadian soldiers on Vimy Ridge during the battle of April 1917 and was later brought to Canada. When walking in front of the cross, every soldier on duty must show his respect for the fallen with a military salute.
The regimental memorial, a small pyramid-like structure located at the Citadel, is also a place of great significance. Its walls are engraved with the regimental emblems of numerous French-speaking units that have at some point brought reinforcement to the R22R. Moreover, it houses the remains of Major-General Georges Vanier and of his wife Pauline, as well as the ashes of Brigadier-General Paul Triquet, who was awarded the Victoria Cross in 1943. The memorial also holds the Book of Remembrance in which are written the names of every soldiers of the regiment fallen in the line of duty since 1914. Each morning, a soldier walks to the memorial and reads aloud the names written on one page.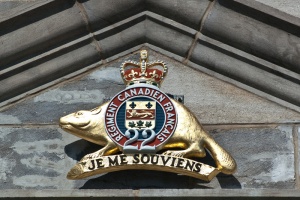 Visitors to Quebec City will also notice the imposing presence of the regimental monument located at Place George-V [square]. Erected in 1989, the monument is inscribed with the names of soldiers who died in the line of duty. This monument is an excellent example of how military heritage is promoted outside of the traditional sphere of the military (e.g the walls of the Citadel).
It is also possible to identify the regiment by its insignia, which includes an image of a beaver and the inscription "22, Régiment canadien-français" and the regimental motto "Je me souviens" [I Remember]. The symbolic beaver is also present on the flag, headgear and other objects related to regimental life. It is another excellent way for the general public, as well as for other Canadian or foreign military troops to identify the regiment.
Among the regimental traditions there is also a feast held on the 21st of October to celebrate the anniversary of the R22R, which was founded in 1914. The regiment also holds dinners to celebrate civilian holidays observed in Quebec, such as Christmas and Saint-Jean-Baptiste Day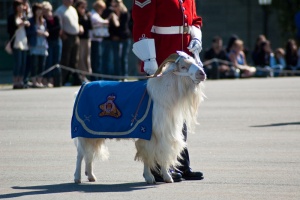 Another widely known symbol that is very popular with all visitors, whether great or small, is the regimental mascot "Batisse" the goat. The goat's origins as a military mascot remain obscure, but based on present research, one can presume that the earliest presence of a goat might have been one that followed the British troops during the Battle of Bunker Hill in 1775 at the time of the American Revolution. The British garrison stationed at the Citadel of Quebec in 1838 had a goat named "Jacob the Goose", which would regularly stand guard with the picket. According to history books, the Shah of Persia offered Queen Victoria a couple of goats in 1884, which are actually believed to be ancestors of the current Batisse. Queen Victoria probably accepted the gift and requested that the goat become the mascot of her regiment.  On that day, the royal herd was created and it came to reside in London's zoological gardens. When it was affiliated with the Royal Welch Fusiliers from the British Army in 1920, the R22R adopted the mascot that, in 1955, would eventually earn the affectionate French-Canadian name "Batisse
Like every great institution, the R22R has codes and regulations that govern the behaviour of each of its members. This etiquette partially defines the overall protocol which distinguishes the R22R from every other military unit. For example, it is imperative that soldiers posted with the unit become familiar with its history, symbols, traditions and regimental hierarchy. All members are also required to stand up when a general or a commanding officer of the regiment enters the mess. There are also protocols on how to address or reply to a superior. For example, the code specifies the precise manner in which one speaks to an officer with which one is having a conversation. These are only a few examples that illustrate the fact that the R22R has a code of etiquette which is not unlike that of the Canadian Armed Forces, although it still maintains its very own distinctive flavour. The unit's status as a French-speaking regiment working within what is mostly an English-speaking institution makes such small distinctions par for the course.
All these symbols and traditions are specified in the displays and brochures of the Royal 22e Régiment's museum, which has been located in the Citadel of Quebec since the unit was established in 1950. Visited annually by tens of thousands of visitors, the regimental museum is an important establishment for promoting the unit's customs and traditions, whether it be for fresh recruits or recent transfers to the R22R or a general public which is desirous know more about the unit. Lastly, it is important to mention that in 2014 the R22R will celebrate its 100th anniversary. The occasion will certainly be marked with a series of events that will enable the regiment to present (to the general public) the contribution the unit has made to Canadian society. A series of activities on an international, national, provincial and local level are planned. Each activity will illustrate the regiment's rich history in an unforgettable way. Movies, books, stamps, commemorative coins, galas, pilgrimages and drill parades (tattoos) demonstrating the regiment's role as defenders of the city will be included in the celebrations. All these activities are examples of how the heritage of the regiment is being preserved and promoted-a fact that greatly testifies to the integration of French-speakers into the Canadian Armed Forces.
Carl Pépin
Ph. D., historian
BIBLIOGRAPHY
Books
Allard, Jean (with the collaboration of Serge Bernier), Mémoires du général Jean V. Allard, Boucherville, Éd. De Mortagne, 1985, 533 p.
Bernier, Serge, Le Royal 22e Régiment 1914-199, Montréal, Art Global, 1999, 455 p.
Brillant, Jacques, La guerre mal apprise, Ottawa, Éditions Leméac, Ottawa, 1991,
Castonguay, Jacques, Les Bataillons et le Dépôt du Royal 22e Régiment. Vingt ans d'histoire, 1945-1965 - Tome III, Québec, Régie du Royal 22e Régiment, 1974, 288 p.
Chaballe, Joseph (Colonel), Histoire du 22e Bataillon (Canadien français), 1914-1919 Tome I, Montréal, Éditions Chanteclerc Ltée, 1952, 415 p.
Chantal, Denise, Armand Hébert. Le Plus Grand Mutilé du Royal 22e Régiment de la guerre 1939-1945, Québec, Arion, 1997, 173 p.
Châtillon, Claude, Carnets de guerre, Ottawa-Casa Berardi. 1941-1944, Ottawa, Les Éditions du Vermillon, 1987, 163 p.
Corneloup, Claudius, La Coccinelle du 22e, Montréal, Éditions Beauchemin, 1934, 237 p.
Corneloup, Claudius, L'épopée du 22e, Montréal, La Presse/Librairie Beauchemin limitée, 1919, 150 p.
Corriveau, Paul, Le Royal 22e Régiment. 75 ans d'histoire, 1914-1989, Québec, Régie du Royal 22e Régiment, 1989, 131 p.
Dussault, Louis, Le protocole : Instrument de communication, 3e édition, Montréal, Les Éditions Protos, 2003, 738 p.
Falardeau, Victor (sergeant) et Parent, Jean (sergeant), 50 ans d'histoire de la Musique du R22eR, 1922-1972, Québec, Éditions Garneau, 1976, 243 p
Forbes, Charles, Fantassin pour mon pays, la gloire et...des prunes, Sillery, Septentrion, 1994, 451 p.
Gagnon, Jean-Pierre, Le 22e Bataillon, Québec, Les Presses de l'université Laval, 1986, 460 p.
Gagnon, Réginald, Fait d'armes à Oka, Québec, Arion, 1994, 189 p. 
Holland, J.A., Les Poilus canadiens. Le roman du Vingt-deuxième Bataillon canadien-français, (sans non d'éditeur, sans lieu d'édition,sans date), 47 p.
Juteau, Maurice, L'envers de ma guerre, Farnham, Formulaires Ducharme Inc., 1982, 203 p.
Juteau, Maurice, Ma drôle de guerre, Tiré du soldat qui pense, Farnham, Formulaires Ducharme Enr., 1980, 172 p.
La Citadelle de Québec, Résidence du Royal 22e Régiment, Québec, Musée du R22eR, (sans date), 40p.
Laboissière, Alphonse-Claude (Major), Journal d'un aumônier militaire canadien 1939-1945, Montréal, Éditions Franciscaines, 1948, 330 p.
Lamontagne, L, Les Archives Régimentaires des Fusliers du Saint-Laurent, Rimouski, 1943
Lapointe, A.J. (Major), Souvenir d'un soldat du 22e Bataillon, 1917-18, (4th edition), Drummondville, Les Éditions du Castor, 1944, 259 p.
lcol P. Lamontagne), Histoire du Royal 22e Régiment - Tome II, Québec, Édition du Pélican, 1964, 424p.
Nicholson, G.W.L., Le Corps expéditionnaire canadien, 1914-1919 : Histoire officielle de la participation de l'Armée canadienne à la Première Guerre mondiale, Ottawa, Ministère de la Défense nationale, 1963, 671 p.
Poulin, Gaston (Major), 696 heures d'enfer avec le Royal 22e Régiment, Montréal, Beauchemin, 1946, 181 p.
Poulin, Jean-Gaston (Tony), Un synopsis des faits d'armes du Royal 22e Régiment de 1914 à 1954, unpublished works, 21st January, 2002, 95 p.
Pouliotte, Jean-François, Le Royal 22e Régiment pendant la Seconde Guerre mondiale : une étude socio-militaire, mémoire de maîtrise en histoire présentée à l'Université du Québec à Montréal, Montréal, 1996.
Roussel, Ludovic, Les soldats de l'espoir, Ottawa, Arion, 1996, 249 p.
Russel, E.C., Coutumes et traditions des Forces armées canadiennes,Ottawa, Éditions du Pélican conjointement avec le ministère de la Défense nationale et le Centre d'édition du Gouvernement du canada, Approvisionnements et Services Canada, 1980, 340 p.
Savard, Claude, Journal intime d'un Bérêt bleu canadien en ex-yougoslavie, Outremont, Les Éditions Québécor, 1994, 196 p.
Stacey, C.P. (colonel), L'Armée canadienne 1939-1945: résumé historique officiel, Ottawa, Edmond Cloutier, Imprimeur du Roi, 1949, 364 p.
Stacey, C.P. (colonel), Six années de guerre, L'armée au Canada, en Grande-Bretagne et dans le Pacifique, Volume 1, Oattawa, Edmond Cloutier imprimeur de la Reine et Contrôleur de la Papeterie, 1957, 652 p.
Thérrien, André, Histoire du Royal 22e Régiment - Guerre de Corée (révisée), Quebec, typewritten manuscript, 1997
Vanier, George-P. (maj-gén), Paroles de guerre, Montréal, Éditions Beauchemin, 1944, 148 p.
Wade, Mason, Les Canadiens- français de 1760 à nos jours, Tome II (1911-1963),Ottawa, Le Cercle du Livre Français, 1963, 574 p.
Regiment Archives
Chauveau, Colonel C., Notes historiques sur le Royal 22e Régiment - 65 ans d'histoire Tome I, manuscrit dactylographié, Québec, 1983, 302 p.; Tome II, 1983, 341 p.; Tome III, 1983, 386 p.
Journal du Royal 22e Régiment, 1920-1939
La Citadelle, de l'Association du 22e Inc, from 1964 to date, with six editions per year.
L'Amicale du 22e, de l'Association du 22e Inc., fro  1947 to 1964 with six editions per year.
Images
Document sonore
Hyperliens
Catégories