Jos Montferrand, Legendary Figure of the Ottawa Valley
par Prévost, Michel
Joseph Montferrand, dit Favre, better known as Jos Montferrand, is still considered one of the greatest figures of French Canadian legend. The hero is referred to by many different names across North America, including Montferan, Muffraw, Mouffreau, Mufferoin, Maufree and Murphy. While he is closely associated with the Ottawa Valley, this lumberjack, log driver, foreman, raftsman and strongman was not born and raised there. He did, however, spend half of his life in the region, drawn by the forest industry that proved to be the economic force of the Ottawa Valley in the 20th century. It was also in this region that he became a character of legend; today, there is no way to distinguish his real exploits from those that are purely folklore.
Article disponible en français : Jos Montferrand, figure légendaire de l'Outaouais
An Icon of French-Canadian Popular Culture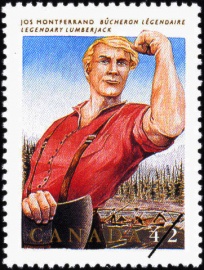 Jos Montferrand became a legend well before his death. In 1868, Wilfrid Laurier stated that "no name, after that of the great Papineau, has become more popular, wherever the French language is spoken in the land of America". His exceptional life and his exploits were recounted (and exaggerated) in homes, taverns and lumber camps. Oral tradition and written material distributed by some lumbering companies spread the legend through the forests from Newfoundland to British Columbia. The some 900,000 Quebecois who moved between 1840 and 1930 to live with our neighbours to the south also helped to make him famous, especially in New England after 1870. At the beginning of the 20th century, Montferrand's reputation also spread to the lumber camps of Michigan, Wisconsin and Minnesota. 
Reflecting this immense popularity, Jos Montferrand was the subject of works by several writers and artists: Benjamin Sulte and André-Napoléon Montpetit in print, Louis Guyon in the theatre (NOTE 1), as well as Mary Travers (La Bolduc) and, more recently, Gilles Vigneault in song. In 1980, Jean Côté wrote an historical novel, published by Québecor, with the evocative title Jos Montferrand, le magnifique (Jos Monferrand, the Magnificent). In 2008 and 2009, Paul Ohl revived the Montferrand legend in his two historical novels, Montferrand: Le prix d'honneur (Montrerrand: Award of Merit) and Un géant sur le pont (A Giant on the Bridge), a reference to the memorable fight on Union Bridge, which at the time linked Lower Canada (Quebec) and Upper Canada (Ontario).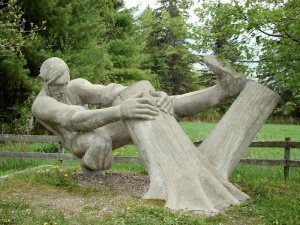 Official bodies have also paid homage to this hero of popular culture. In 1992, Canada Post immortalized the image of the country's most famous lumberjack by issuing a commemorative stamp in his honour. In 2009, the Ontario Heritage Trust recognized Montferrand as a person of provincial historical significance and unveiled a plaque at the former St. Brigid's Church, which used to be the place of worship of the Irish of Lower Town (la Basse-Ville) Ottawa. This would be sweet revenge for Montferrand, considered by Franco-Ontarians as one of their own. 
The name Montferrand does not appear in many official place names. In Gatineau, the law courts are housed in the Édifice Jos Montferrand, although this choice of  name was criticized at the time of its inauguration in 1978. Some judges objected strenuously to the decision, considering it inappropriate to name their court house for a "pillar of the taverns". Without denying that Montferrand enjoyed frequenting  such establishments, which were the only places to eat, drink and have fun at the time, we believe that he deserves the more glorious title of "king of the forests of the Ottawa Valley". In 2001, Montferrand was on the short list of possible names for the new almagamated city on the Ottawa River; however, it lost out to Gatineau. While no streets or arteries in the city where he accomplished his greatest feats bear his name (NOTE 2), an early childhood centre in downtown Gatineau was named for him. There is also a Rue de Montferrand in Quebec City, and a downtown park in Montreal commemorates the name of one of its most illustrious native sons. Strangely, there does not seem to be any evidence of Montferrand in the place names used in the industrial cities of New England, where Francophones were very much present in the second half of the 19th and at the beginning of the 20th century. This would be a interesting topic for further research. 
The Cock of Faubourg St. Laurent 
Joseph Montferrand was born into a modest family in Montreal on October 25, 1802. The son of a voyageur, Joseph Favre, dit Montferrand, and Marie-Louise Couvret, he was a third-generation Montferrand. His grandfather, François Favre, dit Montferrand, a soldier in the troops of the Chevalier de Lévis, had settled in Montreal after the Conquest of New France. Recognized for their size and incredible strength, the Montferrands enjoyed a degree of fame in the working class districts of Montreal where strongmen were greatly admired.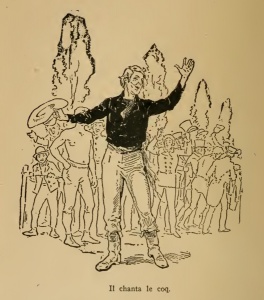 Montferrand grew up in the cosmopolitan neighbourhood of St. Laurent, which boasted many boxing halls and taverns. It is not surprising, then, that he would later excel at English boxing, which at the time used both fists and feet. 
His first exploits came at the age of sixteen when he trounced three bullies who were terrorizing his neighbourhood. Not long afterward, he accepted the challenge of an English boxer who had declared himself champion. At a height of six feet four inches (nearly 2 meters), exceptional for the time, the giant did not allow anyone to get the better of him, which is how he got the nickname, the "cock of the faubourg  St. Laurent". 
In 1820, Montferrand left Montreal for Kingston, where he worked as a teamster. His muscular feats quickly earned him fame and it was said that "he struck like the kick of a horse" and "used his leg like a whip". Fascinated by the voyageurs from the West whom he met in the taverns, the teamster signed on with the Hudson's Bay Company in 1823. Little is known of his years working for this company, which controlled a large part of the fur trade in North America. 
In 1827, Montferrand's life changed direction when he began to travel the forests and rivers of the Laurentians and the Ottawa Valley. He worked at various times as a log driver, a foreman, a raftsman, and as the trusted agent of his Anglophone employers. For thirty years, Montferrand was closely associated with the forest industry which dominated the economic development of the Ottawa Valley in the 19th century.
Life in the Camps of the Ottawa Valley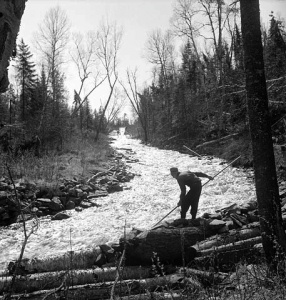 When he settled in the Ottawa Valley in 1800, New England landowner Philemon Wright had a dream of establishing a farm colony.  However, Wright realized that the region's rich forests could be of service to Great Britain, soon to fall victim to Napoleon's Continental Blockade. The first raft, made up of about 50 cribs of white pine, red pine and oak, was floated out of the region toward the Port of Quebec in 1806. After a difficult start, due to market instability and a lack of capital in the mid-1820s, the Ottawa Valley became the North American hub for lumber exports. As Chad Gaffield points out, three elements contributed to this development: increasing British demand for lumber, the development of an American market for construction timber, and a local market for sawn lumber. In addition, there was  a domestic market for fire wood. 
Lumber held the key to a promising future for the Ottawa Valley and, in contrast to the situation at the beginning of the century, an increasing number of investors, merchants, settlers and workers were attracted by the golden age of the forest industry. From the time Montferrand arrived in the region until he left, its population had grown from 2,488 to about 40,000.
His Exploits, Real and Imaginary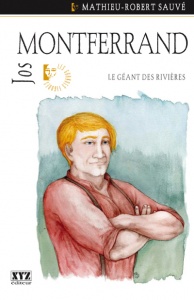 Jos Montferrand enjoyed his roaming life, travelling to lumber camps, ports and taverns, where the strongest ruled and where the most intrepid members of each ethnic group had to defend the honour of their race. As Gérard Goyer and Jean Hamelin put it so well: "Because he was the strongest and the quickest, Monferrand was king. But king though he was, he constantly had to defend his crown. On more than one occasion he had to take up a challenge or extricate himself from an ambush." 
Closer examination of the culture of lumber workers in the Ottawa Valley in the first half of the 19th century helps us to understand why Montferrand was drawn to this way of life. Our hero was surrounded by a male culture closely associated with physical trials, harsh conditions, challenges and often violence, all of which emphasized strength, agility and courage. Montferrand possessed these three "qualities", so highly valued in his working environment, to a greater degree than any of his contemporaries. 
The list of real and imaginary exploits attributed to Monferrand's strength and agility is nearly endless. For example, in 1828, he defeated a British Army champion, before a large crowd in Quebec, while in 1832, during a by-election in Montreal, he routed a gang of ruffians who were attacking his friend and strongman, city councillor Antoine Voyer, nicknamed le Grand Voyer. Monferrand is said to have lifted a plough at arm's length with one hand. In Bytown, he is reported to have left his footprint on the ceiling of a tavern on Sussex Drive. Montferrand performed this feat in many Quebec taverns and it became his hallmark.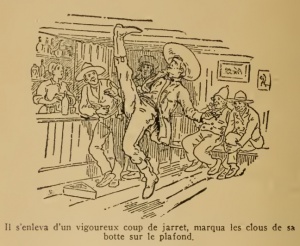 The most spectacular of all our athlete's feats was his 1829 fight on the Union Bridge, now the Chaudière Bridge. The only land link between Hull and Bytown, this bridge was the site of an ongoing conflict between Irish hooligans, the Shiners, and French-Canadians, the two groups fighting for control of jobs in the logging industry in the Ottawa Valley. Frequent skirmishes occurred between them and an atmosphere of violence reigned, especially near the Chaudière Falls, where Irish ruffians controlled the bridge. This is where the undisputed leader of the French-Canadians was ambushed and where he routed more than 150 Shiners. As historian Benjamin Sulte tells the story, it was a horrible scene. Many of the attackers found themselves in the water and blood was flowing from the parapet into the Ottawa River. Sulte describes how Montferrand was able to defeat so many enemies: "Montferrand took a few quick steps toward the attackers; the one who was the most exposed fell prey to the Canadien, who grabbed him by the feet and used him as a club to knock down everyone in the front rank, then picking them up like rag dolls and throwing them to the left and to the right into the white waters of the river." [Translation] Other similar feats in Shiners War, including his victory over the seven MacDonald brothers who were trying to keep him from crossing the same bridge, led Robert Choquette to state that Montferrand proved to be "David slaying the Irish Goliath on the Ottawa River between 1829 and 1840". 
After 1840, the number of Montferrand exploits diminished. He no longer travelled to the lumber camps in winter but, in spring and summer, he continued to oversee the movement of rafts of square timber down the Ottawa River and the St. Lawrence all the way to Quebec. This was still demanding work since the rafts could reach lengths of 500 meters, with crews of 80 raftsmen (NOTE 3).
Retirement in Montreal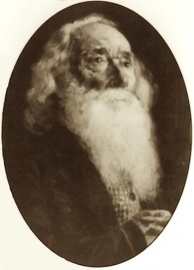 In 1857, the legendary figure left the Ottawa Valley and retired to his Rue Sanguinet home in Montreal. He is thought to have been comfortable, financially, because as a foreman he had earned three times the salary of a lumberjack. However, the former "cock of the faubourg St. Laurent" had lost some of his feathers. At 55, his back was bent with rheumatism but, in spite of his weakened physical condition, he remained a hero. 
After the death of his first wife, Marie-Anne Trépanier, Monferrand married Esther Bertrand, in the spring of 1864. The following October 4, he died in the city of his birth, at the age of 61. He did have a descendant, however, since after Montferrand's death, his second wife gave birth to a son, Joseph-Louis, who inherited the physical stature of his ancestors. With his nine children, Joseph-Louis had numerous descendants, the eldest of whom, Joseph, enjoyed some renown as a boxer at the beginning of the 20th century.
A Legend that Strengthened the French-Canadian Identity 
Over time, oral history and the many accounts of the legendary Montferrand made him into a larger-than-life figure, endowed with almost every quality possible. He was big, strong, handsome, good, pious, courteous, loving, devoted, warm, wise, kind, generous, trustworthy, fair, intelligent and responsible. Montferrand, more than any of the other strong men of his era, seems to have captured people's imagination, to such an extent that he became an ideal, perhaps even a myth.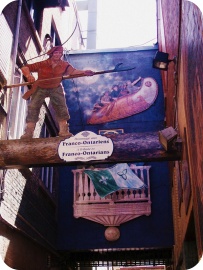 For Goyer and Hamelin, this phenomenon can be explained by the personality of hero, the place in which his exploits were performed and the period in which he lived. Endowed with a fine physique, Monferrand was also one of the most engaging figures of his day. His exploits took place in the Ottawa Valley where tension between the Irish and the French Canadians and between the English merchants and the Francophone settlers ran high. It was in this context that he became a symbol of nationalist ideology based on faith and language. Further, the hero's exploits came in the troubled decades during which the coureurs de bois and voyageurs disappeared, and at a time, in 1837-1838, when the Patriotes were suppressed by British troops. Montferrand became the perfect character on whom an anxious people could project its dreams and fears. Goyer and Hamelin sum up the unique place Montferrand occupies in our folklore in this way: "In the struggle they continued to wage against the English and against nature, French Canadians found hope and greater self-respect in the Monferrand legend." 
Today, it would be naïve to believe that Jos Montferrand actually accomplished all the feats attributed to him. For us, his greatest achievement is in the fact that, two centuries after his birth, he remains very much alive in our memories!
Michel Prévost
Chief Archivist, University of Ottawa and President of the Société d'histoire de l'Outaouais
Images
Document sonore
Documents PDF
Hyperliens
Catégories
Notes
1. Louis Guyon (1853-1933), Montferrand: drame canadien en 4 actes et 9 tableaux, 1903.
2. The name was, however, in the final running for a new boulevard in Gatineau. Instead, the name Allumettières was chosen to honour the women who, for a century, made matches in Hull, now part of Gatineau.
3. In French Canada, the cageux was a man, generally no older than about thirty, who guided the rafts of logs along the streams or on the St. Lawrence River. There were ten to twenty on a raft. In English, the cageux was referred to as a raftsman. Source: www.cageux.ca.
Bibliographie
Bourgoin Louis-Marie, « Jos. Montferrand, contremaître de chantier et guide de cage », Asticou, cahier no 23 (juin 1980), p. 34-39.
Choquette Robert,  L'Ontario français historique, Montréal, Éditions Études Vivantes, 1980, 272 p. 
Côté Jean, Jos Montferrand, le magnifique,  Montréal, Éditions Quebecor, 1980, 136 p.
Du Berger Jean, « Histoire de Montferrand : l'athlète canadien and Joe Muffraw », Journal of American Folklore », vol. 73 (1960), p. 23-34.
Gaffield Chad (dir.), Histoire de l'Outaouais, Québec, Institut québécois de recherche sur la culture, 1994, 876 p.
Gouin Jacques, « Jos. Montferrand : Histoire, légende et symbole », Asticou, cahier no 3 (juillet 1969), p. 5-9.
Goyer Gérard et Jean Hamelin, Joseph Montferrand, dans Dictionnaire biographique du Canada, vol. IX. Québec, Presses de l'Université Laval, 1977, p. 620-623.
Lemieux Gilles, « La vie de l'illustre Joe Montferrand par Sir Wilfrid Laurier », Asticou, cahier no 8 (décembre 1971), p. 27-34.
Montpetit André-Napoléon Nos hommes forts, Québec, C. Darveau, 1884, 196 p.
Ohl Paul, Montferrand : le prix de l'honneur, tome I, Montréal, Libre Expression, 2008, 376 p.
Ohl Paul, Montferrand : un héros sur le pont, tome II, Montréal, Libre Expression, 2009, 376 p.
Prévost Michel, «Jos Montferrand, de la légende à la réalité», Histoire Québec, vol. 1, no 1 (juin 2005), p. 37-40.
Prévost Michel, «Joseph (Jos) Montferrand : roi des forêts de l'Outaouais ou pilier de tavernes?», Cap-aux-Diamants, 69 (printemps 2002), p. 13-17.
Sulte Benjamin, Histoire de Jos Montferrand, l'athlète canadien, Montréal, C.O. Beauchemin, 1899, 126 p.
WEBSITES :
http://www.histoirequebec.qc.ca/publicat/vol11num1/v11n1_12jm.htm
http://www.thecanadianencyclopedia.com/index.cfm?PgNm=TCE&Params=F1ARTF0005394
http://www.soccer-rosemont.org/carte/carte/carte-80.html