Association Canadienne Française de l'Alberta (ACFA)
par Équipe de rédaction de l'Encyclopédie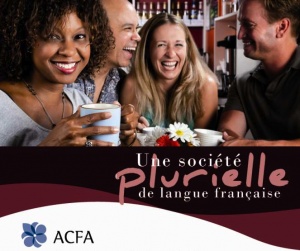 In 2011 Alberta's francophones comprised 2.2% of the province's population. Protecting the French language in Western Canada has long been a struggle. As far back as 1926, Franco-Albertans formed an association to defend their interests and provide French-language education to the francophone population. Association canadienne-française de l'Alberta (ACFA) is active both on the ground in francophone communities and in provincial and federal politics where it has been instrumental in ensuring that Alberta's francophone cultural heritage is preserved and passed on.
Article disponible en français : Association canadienne-française de l'Alberta (ACFA)
Alberta's Francophones Today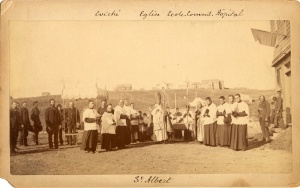 The era of the fur trade and its
voyageurs
saw the first French-speaking settlements east of the Great Lakes. These small outposts grew steadily but often retained their original names, a reminder of their French origins. French was the first European language spoken—long before English—in the territory that later became the province of Alberta. It was the
lingua franca
of Fort Edmonton, built in 1795 by the Hudson Bay Company. Although the massive influx of settlers spelled the end of French's first-language status, efforts by the Catholic Church helped a tenacious French-speaking community put down roots and survive. 
Today Alberta boasts Canada's third largest minority francophone population, after Ontario and New Brunswick. While the immigration of the last two decades has primarily swelled the ranks of Alberta's English-speaking population, major migratory movements have also helped boost the French language. For example, since the 1970s Alberta's thriving economy has attracted several thousand francophones from across Canada. This means that Alberta's francophones have ties throughout the country. French may be a minority language in Alberta, but it is firmly entrenched and has been for over 200 years.
Francophone Organizations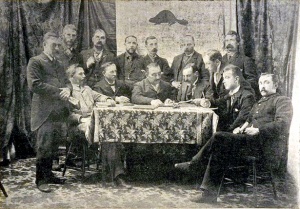 As a minority, Alberta's francophones had to learn
self-government
. This meant developing social and political groups to better meet the community's needs. Such groups were initially based on existing Quebec organizations like
Société Saint-Jean-Baptiste
, which was founded in Quebec in 1843 and exported to Alberta in 1984, but soon developed their own identity. 
Many associations came into being over the years, including Les Artisans (1911), Société du parler français (1912), Association catholique de la jeunesse canadienne-française (1913), Cercle Jeanne-d'Arc (1913), Bonnes amies (1925), Jeunes Canadiens (1925) and Cercle Dollard-des-Ormeaux (1925). But the best-known is unquestionably the French Canadian Association of Alberta (in French, Association canadienne-française de l'Alberta, or ACFA). Over time this association would become the official voice of the province's francophones. 
The Roots of ACFA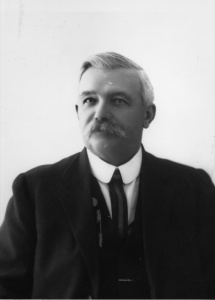 During the first quarter of the 20
th
century, English was the only language used by the government of Alberta and the sole language of instruction, except for the well-known "primary course" that provided for one year of French instruction at elementary school.
In spring 1925 the Franco-Albertan community and the Minister of Education worked together to develop an official curriculum and a set of ministerial regulations governing French-language education in Alberta. Under the new rules one hour per day could be spent on French, beginning in Grade 3. To successfully implement these new regulations, and to meet the growing needs of all Alberta's francophones, the community felt the strong need for an organization to marshal its resources and talent province-wide.
Cercle Jeanne-d'Arc kicked things off with a banquet held December 13, 1925. Over 400 people from all over Alberta came out to mark the foundation of the French Canadian Association of Alberta. ACFA's official inauguration took place at its first congress in July 1926.
How ACFA Works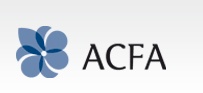 From December 13, 1925, to July 15, 1926, ACFA was led by a provisional committee presided over by Dr. J.E. Amyot, who later became the association's first president. A period of collaborative management by hundreds of volunteers followed: members were divided into "parish circles" comprising all members from a particular parish or Catholic mission. This organizational structure remained in place until 1960, when the parish circles were replaced by five regional circles which became the ACFA's official regional conferences known in French as "Régionales."
For a long time, ACFA funding came from the parish circles in the form of donations and monies raised at the annual AFCA Day. In 1959 a family insurance plan (Service de Sécurité familiale) was set up with Desjardins Life Insurance, providing ACFA with a more reliable source of income. Later, funds from the ACFA Foundation would supplement the financial support provided by the Secretary of State of Canada, which has funded AFCA since 1969.
French-language Education in Alberta 
French-language education has always been one of ACFA's top priorities. In December 1926, there were 135 schools in Alberta where French could be taught for one hour per day up until Grade 8. The onerous task of recruiting French teachers and securing recognition for out-of-province credentials fell to ACFA. The organization also worked with Association des éducateurs bilingues de l'Alberta (AEBA) to put in place a teacher training program in 1934. In addition, ACFA created the position of school visitor, whose task was to promote French language instruction province-wide.
From 1929 onward, ACFA and AEBA jointly organized popular French contests. In 1959, 5,000 students from Grades 3 to 12 took part. These contests would later undergo fundamental changes before disappearing altogether.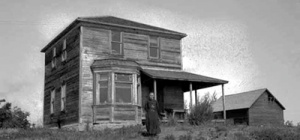 ACFA also helped develop
Collège Saint-Jean
, a French-language institution of higher education in Edmonton—especially its teacher training school, which opened in 1961. The association would later spearhead, support and carry out numerous educational initiatives with government, parents, school authorities and the courts. Particularly noteworthy were a series of major studies that helped clarify the francophone community's expectations regarding education and facilitate negotiations on the crucial matter of the administration of French-language schools.
In addition to this leading role in education, ACFA has also been involved with youth groups. In 1933 it organized the ACFA Avant-Garde and has since supported every francophone youth movement in the province.
The Franco-Albertan Community Speaks Up
To foster the sizeable Franco-Albertan farming community in the first half of the 20th century, ACFA got involved in the recruitment of French-Canadian agronomists and in other agricultural and immigration matters. But the association also had to see to community's basic cultural needs. AFCA played a signal role in the 1928 foundation of La Survivance, a French-language newspaper and essential information source for Franco-Albertans. The newspaper changed its name to Le Franco-albertain in 1967. Eight years later ACFA formally took ownership of both the paper and its press, Imprimerie La Survivance.
An awareness of the need for access to French-language books and other cultural products led ACFA to help set up parish libraries over a period of 20 years. In December 1946, the company launched a very basic French-language bookselling service through which readers ordered books from a list published in La Survivance. The service was dropped in 1960 when Librairie Fides opened an Edmonton branch, but the new bookshop did not fare well and closed three years later. In 1977 ACFA chose the name "Carrefour" for the outlets that would distribute French-language cultural products throughout Alberta. "Le Carrefour" bookstore has gone on to become one of AFCA's most resounding successes.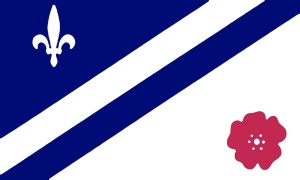 Starting in 1928, the struggle for radio service
en français
became another key ACFA concern. Success came in 1949 when the community celebrated the launch of CHFA, a private station. It was owned by Radio-Edmonton Ltée, whose shareholders and directors were elected by the ACFA board, i.e., by the members of the francophone community who had put up $140,000 to help get the station off the ground. In April 1974, after 25 years of independent operation, CHFA was sold to Radio Canada, which has provided French-language radio services in Alberta ever since.
In 1957 ACFA also began investing in television. The association's efforts bore fruit in March 1970 when CBXFT, a French-language station, hit the airwaves following an agreement between the Metropolitan Edmonton Educational Television Association (MEETA), Canada's Secretary of State, and Alberta's Ministry of Education.
Finally, from 1982 to 2000 ACFA helped create a number of new francophone associations for parents (Fédération des parents francophones de l'Alberta) and seniors (Fédération des aînés de l'Alberta). After drawn out consultations, ACFA also developed a policy on multiculturalism that led to the establishment of Association multiculturelle francophone de l'Alberta. This association better addresses the needs of francophone immigrants from areas including North and Sub-Saharan Africa.
ACFA Gets Political
Political action has always taken up much of ACFA's energy. This political involvement escalated in the 1960s, first when the association helped create the Fédération canadienne-française de l'Ouest in 1960, and then when it took part in the Royal Commission on Bilingualism and Biculturalism. ACFA also participated in the States General of French Canada in Montreal and Quebec City between 1966 and 1969. Then, in 1975, the association was instrumental in the creation of the Fédération des francophones hors Québec (FFHQ) representing non-Quebec francophones.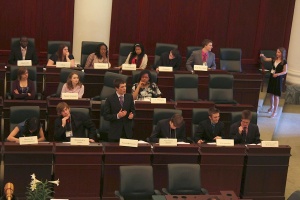 After the repatriation of the constitution in 1982, constitutional issues inspired soul-searching, serious research and sustained political action. ACFA played an important, if largely unacknowledged, role in the debates around constitutional amendments and the Meech Lake and Charlottetown Accords. The Canadian Charter of Rights and Freedoms entrenched in the 1982 constitution also brought the question of French-language education outside Quebec back to the fore. The Piquette Affair and the Mercure Case, followed by the 1988 adoption of the Languages Act which made Alberta a unilingual province, marked both the end of several years of unrelenting work to protect Franco-Albertans' language rights and the beginning of ACFA negotiations with Ottawa to sign the first Canada–Community agreement.
The Official Languages Act was amended in 1988 to promote both of Canada's official languages—English and French—in provinces where one is a minority language. This amendment ushered in a new era of federal-provincial cooperation. The 1999 establishment of Alberta's Secrétariat francophone was the crowning achievement of ACFA's political work of the period.
A Vital Expression of Francophone Heritage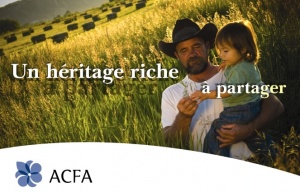 Minority status has long forced Alberta's francophones to look after their own. As the official voice of Alberta's francophone community, ACFA has had the important role of establishing community goals and objectives and fighting for the resources needed to achieve them. Working at the social, cultural, and political levels, ACFA has contributed to numerous achievements whose repercussions are still felt today, and it continues to actively defend the French language in Alberta. For Franco-Albertans, ACFA is more than just a means to pass on their heritage—it is itself a vibrant expression of this heritage.
The editorial team of the Encyclopedia of French Cultural Heritage in North America
The team would like to underline the contribution of France Levasseur-Ouimet of University of Alberta's Campus Saint Jean, whose invaluable expertise helped document this article.
Images
Hyperliens
Catégories