Henri-Gustave Joly and the Development of our Natural Heritage
par Oliveau-Moore, Sophie
Henri-Gustave Joly de Lotbinière was a multifaceted man: an honest politician, a wise businessman, a passionate tree-grower and an influential figure in Canada's linguistic duality in the 19th century. He came from an important New France family, but was born and educated in France, and he went on to make his mark on the political scene in Quebec, British Columbia and Canada. Because of his passion for horticulture and for trees, he was a promoter of forest conservation and he created a huge romantic garden-park, which has been restored in recent years and which is still recognized today for its beauty and the rare species it contains. He is remembered as an affable and scrupulously honest man, a champion of tolerance, and a visionary in the areas of agricultural progress and forest conservation. 
Article disponible en français : Henri-Gustave Joly et la mise en valeur du patrimoine naturel
Childhood and Education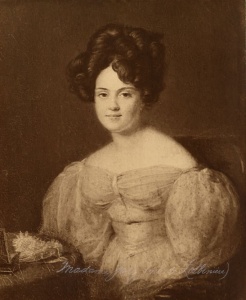 Henri-Gustave Joly was born in Épernay, France, on December 5, 1829, the son of Pierre-Gustave Joly, a French businessman, and his wife Julie-Christine, born Chartier de Lotbinière, daughter of Michel-Eustache-Gaspard-Alain Chartier de Lotbinière and future heir to the seigneury of Lotbinière. Because the Joly family belonged to the Reformed Church, Henri-Gustave had a Protestant upbringing, along with his rigorous formal education. Once he obtained his bachelier ès lettres from the Sorbonne, he returned to Canada in 1850, where he served as an articling clerk before being admitted to the Bar of Lower Canada, in 1885. The following year, he married Margaretta Josepha Gowen, the daughter of an eminent Quebec notary, and this allowed him to join the upper circles of that city. Theirs was a long and happy marriage that produced eleven children (seven of whom survived to adulthood). In contrast, dissension grew over the years between his parents. Consequently, in 1860, his mother to transferred to Henri Gustave all ownership rights to the seigneury located on the shores of the St. Lawrence River, about sixty kilometres southeast of Quebec, the current location of the Domaine Joly-De Lotbinière. His parents had involved him closely in the property and Henri-Gustave took a keen interest in its management. Throughout his life, even when his career as a politician took him away from the seigneury, he managed it from afar through his son Edmond-Gustave.
The Politician
Henri-Gustave Joly was involved in the economic development of the Lotbinière region, as his father had been before him. With his father's help, he entered the political arena in 1851, but he was not successful. However, in 1861, he ran as a Liberal and was elected member of the Legislative Assembly of the Province of Canada for the constituency of Lotbinière. In 1863, he joined the Parti Rouge and, subsequently, took part in the campaign against confederation and in the debate on the Quebec resolutions (NOTE 1). In 1867, the year of Canadian Confederation, he was elected to represent Lotbinière in the provincial Legislative Assembly and in the federal House of Commons. When this double mandate was abolished in 1874, he would chose to retain his provincial seat. In 1869, opponents of confederation with liberal leanings formed a caucus under Joly, whose parliamentary experience and personal reputation were great assets for the new party. Because of this, he is considered to be the founder of the Liberal Party of Quebec. As Leader of the Opposition, he made a significant contribution to house debates, particularly those on the economy: he was a champion of railway construction; in the field of agriculture, he urged that new crops be developed and model farms be established; and he argued fervently for the protection of the natural treasure represented by woodlands and forests.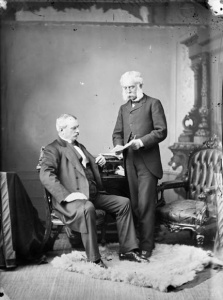 In 1878, Lieutenant-Governor Luc Letellier de Saint-Just, a Liberal sympathizer, precipitated a constitutional crisis, after which he dismissed the Conservative premier, Charles-Eugène Boucher de Boucherville. He then called upon Joly to replace him. Joly became the fourth premier of the Province of Quebec and the first Protestant to hold the office. His party held a minority in the House and he, therefore, called an election in the hope of increasing the number of Liberal seats. Joly's new government had a single seat majority, thanks to the support of one independent member. He was constantly the target of violent criticism from the Conservatives and, at the same time, he was besieged with partisan demands from his allies. Further, his policies for reducing public expenditures were soon considered too austere. After 18 months, his government found itself once again in a minority position and it was defeated, with Joly returning to his position as Leader of the Opposition. In 1883, he resigned in favour of Henri Mercier, although he mistrusted the new leader's partisan policies. During the Louis Riel affair in 1885, Joly was opposed to the support being expressed by the Liberal Party and by the French-Canadian people for the Riel Rebellion, which he considered to be a threat to Confederation. Out of respect for the constituents whose beliefs he did not share on this matter, he resigned his seat as member for Lotbinière and retired to his seigneury to pursue his passions: horticulture and growing trees.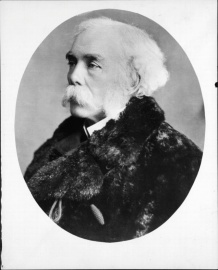 With the death of his mother in 1888, Henri-Gustave Joly, the last representative of the family, gained the right to use "de Lotbinière" after his name. In 1896, he agreed to return to federal politics as a member Wilfrid Laurier's cabinet, holding the office of Controller, and later, Minister of Internal Revenue. He was appointed Lieutenant-Governor of British Columbia in 1900 and, to this day, is the only French-speaking person to have occupied this post. Made up of factions rather than real political parties, the province's legislature suffered from considerable political instability and it found itself in the grips of a constitutional crisis. Joly de Lotbinière's parliamentary experience, together with his wisdom and firmness, helped him to restore order in the successive governments of James Dunsmuir, Edward Gawler Prior and Richard McBride. In 1904, his wife Lady Margaretta died. Sir Henri-Gustave Joly de Lotbinière remained in British Columbia until the end of his term in 1906. He then retired to his home in Quebec, where he died on November 16, 1908, at the age of 79.
The Lover of Trees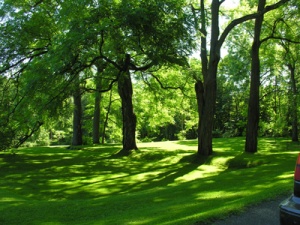 In a letter to his son Edmond-Gustave, Joly de Lotbinière wrote: "I owe to my work connected with forestry, a great part of success as I have known in life[…]really I think, I owe more to forestry than to politics (NOTE 2)". This surprising statement is a clear indication of the lifelong importance he accorded to his love of trees and to forest conservation. Over his entire political career, he played an important role in government forestry policy. He denounced the shameless pillaging of public lands and constantly reiterated the need to legislate with future generations in mind. He also called for the establishment of a committee on woodlands and forests that would have the authority to manage forests and to regulate timber-cutting.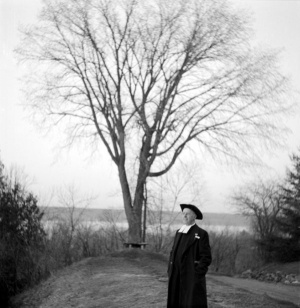 Henri-Gustave also put his recommendations into practice on his own seigneury: passionate about experimentation, he planted thousands of black walnut, a less hardy tree with higher commercial value, on the family estate, and over a period of several years, he succeeded in acclimatizing it to the harsh Quebec winters. In 1882, after he had chaired the Montreal convention of the American Forestry Congress, he was named first vice-president of the organization. An ardent defender of trees and forests, he wrote many newspaper articles and gave many speeches in an effort to raise public awareness. In 1883, he instituted Arbour Day in Quebec, a celebration and school holiday in May when thousands of trees were planted. His influence, together with the government's desire to preserve public forests, resulted in the establishment of a network of Quebec parks in 1885. Henri-Gustave Joly de Lotbinière played a key role in the conservation and development of Quebec's forest heritage.
The Champion of Tolerance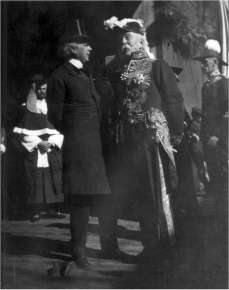 One of Henri-Gustave Joly de Lotbinière's most striking characteristics was the ease with which he was able to bridge Canada's religious and linguistic duality, a testimony to his open mindedness. The son of a Protestant mother and a Catholic father, the first Protestant premier of a largely Catholic province, a spokesperson for Quebec's English-speaking minority, the French-speaking Lieutenant-Governor of a totally English-speaking province, he found himself, on more than one occasion, in situations where he was called to defend understanding, tolerance and reconciliation. In 1894, the Manitoba school question created considerable tension between English-speaking Protestants in Ontario and French-speaking Catholics in Quebec. Joly de Lotbinière agreed, at the time, to spread the "gospel of peace" in Ontario, where he gave a series of speeches aimed at bringing the two factions together. As a result of these efforts, he was made a KCMG (Knight Commander of the Order of Saint Michael and Saint George) by Queen Victoria, in 1895. Similarly, after accompanying the Viceroy of China on a Canadian visit, he promised to improve the lot of the Chinese community and, consequently, the Chinese Emperor made him a member of the Order of the Double Dragon. On that occasion, he wrote to his son Edmond: "My only goal is to obtain for the Chinese some measure of the dignity owed to every human […] The issue of a five-dollar head tax will not proceed at this session, the enemies of the Chinese (namely, those who complain that they work for too little and never go on strike) are preparing the groundwork by characterizing them as brutes…" [Translation] During his term as Lieutenant-Governor of British Columbia, his sympathy for the Chinese was even criticized by Premier James Dunsmuir who reproached him for his "distressing habit of disallowing anti-Asian legislation" (NOTE 3). There is no doubt that his humanity, his tolerant approach and his courage were acknowledged and respected by his contemporaries, as one of them, Senator Laurent-Olivier David, wrote in his book, Les gerbes canadiennes: "He demanded nothing, he sought neither honours nor riches, acting solely out of duty, and this is why Mr Joly believed that, once he had explained his point of view and his conscience was clear, he had done all that he could …"[Translation] (NOTE 4)
The Domaine Joly-De Lotbinière
In 1846, Pierre-Gustave Joly purchased land at Pointe-Platon, located on the banks of the St. Lawrence adjacent to the Lotbinière seigneury. In 1851, he had a summer house built; the house was constructed entirely of wood and the "gingerbread" wooden trim of maple leaves along the eaves of its open verandas gave it its name, "Maple House". Over the years, at least ten outbuildings, including a laboratory, were added to the 137-hectare property. However, it was the creation of a romantic garden-park that bestowed on the estate the character it has today: the 19th century landscaping style, popular in Quebec, encouraged closeness with nature and drew the walker's eye to the landscape. Over a period of many years, Pierre-Gustave and his son Henri-Gustave planted trees, constructed gazebos and reading pavilions, and set up benches so that family members and their guests could sit and enjoy the garden's rich beauty.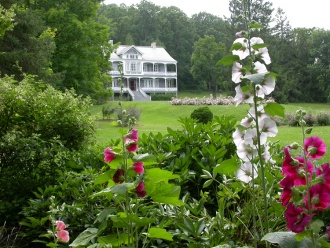 Henri-Gustave proved to be the real heart and soul of the estate: in the laboratory, he undertook horticultural and arboreal experiments; he planted different varieties of trees, including some very exotic ones, and by exchanging cuttings and seeds with people around the world, he succeeded in establishing a true heritage forest at Pointe-Platon. These activities inspired his motto: "Plant with care, nurture with patience." [Translation]   
Today, this lavish estate boasts more than 2,200 varieties of plants, including many native and exotic tree species, an estate forest, a Riparian forest, a hundred-year-old black walnut grove and impressive theme gardens (rose gardens, sensory garden, cutting flower garden, etc.). Cared for and enhanced by three generations of Henri-Gustave's descendents, the property was sold to the Government of Quebec in 1967. In 1990, the historical landscaping was restored. A private foundation took over the estate in 1998 and opened it to the public, making it a key to the development of the region's tourism and culture. Recognized as one of North America's most beautiful gardens, the Domaine Joly-De Lotbinière has been declared Site et monument classés du Québec, as well as a National Historic Site of Canada.
Sir Henri-Gustave Joly de Lotbinière is remembered as a passionate gardener, an ecologist ahead of his time, and an ardent defender of parliamentary democracy. In 2008, on the occasion of British Columbia's 150th anniversary, a committee of the Association historique francophone de Victoria selected him as one of the best examples of the contributions made to the history of the province by French-speaking citizens. Nearly a hundred years earlier, in the 1909 Speech from the Throne, Lieutenant-Governor James Dunsmuir made these remarks with regard to the death of the seventh lieutenant-governor of the province: "His amiability, courtesy and kindliness in private life, and his sterling qualities as a public man, won for him the love and respect of all classes, and his memory will long be cherished by Canadians." (NOTE 5)
Sophie Oliveau-Moore
Independent Researcher
NOTES
NOTE 1: Following the Quebec Conference, held in 1864 to discuss Canadian confederation, delegates from the Provinces of Canada developed these 72 resolutions.
NOTE 2: S.W. Jackman, The Men at Cary Castle: A Series of Portrait Sketches of the Lieutenant-Governors of British Columbia from 1871-1971, (Victoria, BC: Morriss Printing Company Ltd., 1972), p. 83.
NOTE 3: William Rayner, British Columbia's Premiers in Profile: the good, the bad, and the transient. (Surrey, BC: Heritage House Publishing, 2000), p.92.
NOTE 4: L.-O. David, Les gerbes canadiennes, (Montréal: Librairie Beauchemin Limitée, 1921), p.102.
NOTE 5: British Columbia, The Journals of the Legislative Assembly of British Columbia, January 21, 1909, p. 2. (BC Archives - http://archives.leg.bc.ca/EPLibraries/leg_arc/document/ID/LibraryTest/884997189) 
BIBLIOGRAPHY
Catherine Blanchet, Histoire et nature du Domaine Joly-de-Lotbinière, Fondation du Domaine Joly-De Lotbinière, 2001
L.-O. David, Les gerbes canadiennes, 1921-LibrairieBeauchemin Limitée
S. W.Jackman, The Men at Cary Castle, 1972-  Morris Print Co
Hélène Leclerc, Domaine Joly-de-Lotbinière, Fides, 2002,96 pages
William Rayner, British Columbia Premiers in Profile,2000 - Heritage House Publishing
Images
Hyperlien
Catégories