O Canada: From French Canadian Patriotic Song to National Anthem
par Gauthier, Serge
Every country has a national anthem, and Canada—with its O Canada—is no exception. National anthems are symbols meant to bring people together, crystallizing their sense of belonging and collective identity. Played or sung at official ceremonies and on solemn occasions, they are supposed to encapsulate what is best in a country or nation. That, in theory, is their purpose. But the destiny of an anthem may change over time to reflect transformations in a country or nation. Such is the surprising story of O Canada. A French Canadian patriotic song before becoming Canada's national anthem, it is a fixture at sporting events like professional hockey games and the Olympics, yet opinion is still divided on its importance as a symbol of identity. Today, the role of this 19th century song remains the subject of debate and reconsideration.
Article disponible en français : Ô Canada : du chant patriotique canadien-français à l'hymne national du Canada
A French Canadian Patriotic Song
O Canada was commissioned by the Honourable Théodore Robitaille, Lieutenant Governor of Québec, who wanted French Canadians to have an anthem of their own for the French Canadian National Congress to be held in Québec City in June 1880. The event was to culminate in a huge Saint Jean-Baptiste celebration on June 24 in honour of the French Canadian patron saint. Judge Adolphe-Basile Routhier was tasked with writing the words, and although the chronology of events remains somewhat unclear, his lyrics were apparently then set to music by Calixa Lavallée.
The Composer, Calixa Lavallée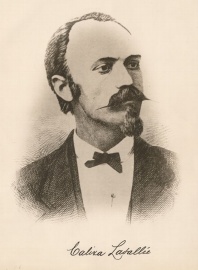 Calixa Lavallée was born on December 28, 1842, in Verchères, but moved with his family to Saint-Hyacinthe, where his father worked for the organ maker Joseph Casavant. He began playing the organ at age 11 and was soon giving piano concerts as well. In 1857, Lavallée moved to the United States, where he led a successful career as a composer, conductor, pianist, and organist. After spending two years studying in France, he returned to Québec in 1877. He composed the music to O Canada in 1880. Lavallée died in Boston 11 years later on January 21, 1891.
Adolphe-Basile Routhier, Author of the French Lyrics to O Canada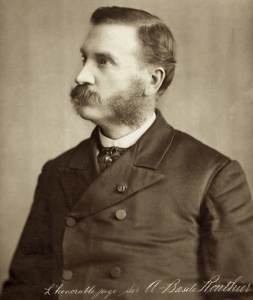 Although Calixa Lavallée has been largely forgotten, the author of the French lyrics to O Canada, Adolphe-Basile Routhier (NOTE 1), has fallen into even greater obscurity. Routhier, a lawyer and judge, was also a well-known man of letters in his day, but none of his literary works have left any lasting trace on Québec's literary landscape.
Born in Saint-Placide (Deux-Montagnes) on May 8, 1839, Routhier was the son of Charles Routhier and Angélique Lafleur. He completed his classical education at the seminary in Sainte-Thérèse, then studied law at Université Laval. Admitted to the bar in 1861, he went into practice in Kamouraska. Routhier took an early interest in politics, and made two unsuccessful bids for election under the Conservative banner in Kamouraska. He was appointed to the bench in 1873, and remained a judge until his retirement (NOTE 2). Routhier was a Knight of the Order of Bath, hence his honorific title of "Sir," and was also a founding member of the Royal Society of Canada, which he presided over in 1914–1915. He died on June 27, 1920, at the venerable age of 81.
Parallel to his legal career, Routhier published numerous literary works over the course of his long life. They included essays (Causeries du dimanche, Conférences et Discours), a novel entitled Paulina: roman des temps apostoliques, as well as a historic play, Montcalm et Lévis: drame historique en cinq actes et six tableaux. Routhier also published some lighter works such as En canot (NOTE 3), which relates his canoe expeditions on Lac-Saint-Jean (NOTE 4).
A Man of Ultramontane Beliefs
A lifelong conservative and ultramontanist, Adolphe-Basile Routhier was a fervent Catholic who staunchly believed in the primacy of Church over State. His thinking guided the way he lived and even influenced his legal rulings, the most famous of which is no doubt his verdict in the so-called "undue influence" trial in La Malbaie in 1876 (NOTE 5).
Routhier's ultramontane convictions are clearly reflected in his writing, notably in the French lyrics to his patriotic ode O Canada, with its numerous references to the faith and the Church. The song also has a strong nationalist tone that expressly celebrates the providential mission of the French Canadians in North America. In reality, nothing seemed to predestine his O Canada to become Canada's national anthem.
The Song's Early Years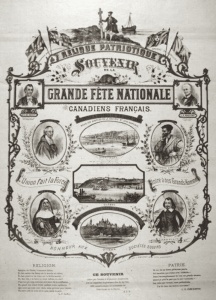 The first public performance of Ô Canada, terre de nos aïeux was given on June 24, 1880. The initial plan was to perform the song at the end of a special mass held for Saint-Jean Baptiste day. Organizers also entertained the idea of postponing the official premiere to the next day at the Lieutenant Governor's residence, Spencer Wood in Bois-de-Coulonge, before the Governor General of Canada, the Marquess of Lorne. Finally, in order to reach the largest possible audience, it was decided to present the song at the end of the banquet organized by Société Saint-Jean-Baptiste for the Congress, lending an even more nationalistic tone to the event. The crowd immediately took to O Canada, which quickly became a French Canadian favourite.
In the years that followed, the popularity of O Canada spread and the song became closely associated with francophone Québec. It was performed at numerous official ceremonies, including the Québec City tricentennial in 1908, and was a staple in Québec Catholic schools. It was even featured in the 1934 film version of Maria Chapdelaine by French director Julien Duvivier (NOTE 6), testifying to its close association with a certain vision of traditional French Canadian Catholic culture, just as Routhier, the ultramontane, would have wanted. Eventually, however, O Canada would take on a newfound importance that Routhier could never have possibly anticipated.
A Canadian National Anthem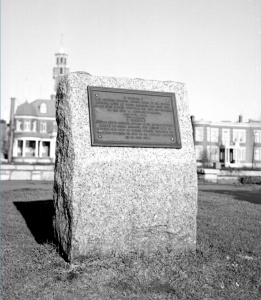 It is surprising to note that there are nearly 20 different English versions of O Canada. The best known is the one written by Robert Stanley Weir in 1908 (NOTE 7) for Québec City's tricentennial celebrations. Weir's text, which is the basis for the English version sung today, was widely published in school textbooks in a number of Canadian provinces. It was also used, with some modifications, at the celebrations marking the 60th anniversary of Confederation in 1927, and even during the 1939 royal visit. In the 1940s and 1950s, Canadian prime ministers William Lyon Mackenzie King and Louis Saint-Laurent had to take positions on the adoption of a Canadian national anthem. Given opposition between backers of "God Save the Queen" and "O Canada," a special parliamentary committee was struck to study the issue in 1964.
On March 15, 1967, the committee recommended that Parliament adopt the music of O Canada as the national anthem of Canada, but issued no recommendation as to the lyrics. In fact, Adolphe-Basile Routhier's French lyrics enjoyed unanimous support and were recommended to Parliament in February 1968, whereas Weir's English lyrics remained a topic of debate. It was not until July 1, 1980, 100 years after its first public performance in Québec City, that O Canada was officially recognized as the national anthem of the Canadian federation.
In French, only the first verse of Routhier's lyrics is sung for the anthem:
Ô Canada! Terre de nos aïeux,
Ton front est ceint de fleurons glorieux!
Car ton bras sait porter l'épée,
Il sait porter la croix!
Ton histoire est une épopée
Des plus brillants exploits.
Et ta valeur, de foi trempée,
Protégera nos foyers et nos droits
Protégera nos foyers et nos droits. (NOTE 8) 
One would think that the federal government's decision would indisputably ensure O Canada a perennial place in the Canadian pantheon, yet since its official recognition, the anthem seems to have followed contradictory paths in Québec and the rest of Canada.
O Canada, Anthem of Québec… or Canada?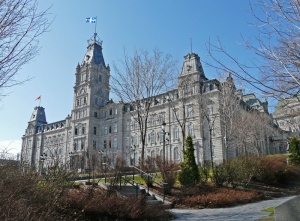 Perceptions of O Canada have changed considerably over its more than 100-year history. Strangely, whereas English Canada finally recognized the song as its national anthem, the post-Quiet Revolution Québec of the 1960s seemed to gradually lose interest. The outmoded religious tone of Routhier's lyrics seemed out of place in fast-changing Québec society: O Canada no longer corresponded to Québécois nationalist sentiment, which found expression in the popular songs of the 1960s and 1970s that accompanied the rising independence movement. In 1980, on the eve of the referendum on the sovereignty of Québec, Premier René Lévesque even evoked the possibility of adopting songwriter Gilles Vigneault's "Gens du Pays" as Québec's official anthem, just as the federal government was officially recognizing O Canada as the Canadian national anthem—a surprising turn of events to say the least!
The Future of a Patriotic Song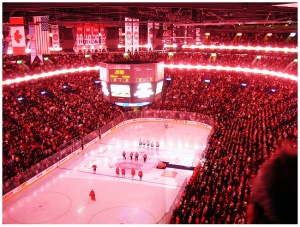 Among English Canadians, lively debate over the English words to the anthem continues. In February 2010, during the Winter Olympics in Vancouver, Prime Minister Stephen Harper's government floated the idea of updating the English words for O Canada (NOTE 9). Reaction was swift and the plan was quickly abandoned, even though Weir's text, which is quite faithful to the spirit of Routhier's version, reflects a rather outdated vision that has little in common with the Canada of today.
At the same time in Québec, O Canada has become more closely associated with professional hockey teams like the Montréal Canadiens and the former Nordiques of Québec City than with the country. One thing is certain; its links with nationalism are no more. Will Routhier's lyrics gradually be forgotten in Québec, where they were created, as the other three verses of his 1880 song (see appendix) have already been?  Ironically, the future of the song that became Canada's national anthem may now depend on English Canada. It is unlikely that Routhier, the amateur poet and once controversial judge, could never have imagined such a fate for the song he wrote to spur the nationalist fervour of participants at the 1880 French Canadian National Congress in Québec City!
Serge Gauthier, Ph. D.
Historian and ethnologist
Centre de recherche sur l'histoire et le patrimoine de Charlevoix
NOTES
1. See Serge Gauthier,  "Sir Adolphe-Basile Routhier (1839-1920). Auteur du texte de l'hymne national canadien," Région Charlevoix, www. Encyclobec.ca.
2. In 1873, he was appointed Superior Court judge for the District of Saguenay, a position he held until December 10, 1889. He pursued his career as a judge in the District de Québec and became chief justice of the Québec court on September 30, 1904.
3. Causeries du dimanche. Saint-Jacques, Éditions du Pot de fer, 1994 ; Conférences et discours. Montréal, Beauchemin, 1925 ; Paulina : roman des temps apostoliques. Québec, Imprimerie franciscaine missionnaire, 1918 ; Montcalm et Lévis : drame historique en cinq actes et six tableaux. Québec, Imprimerie franciscaine missionnaire, 1918; En canot. Petit voyage au Lac Saint-Jean. Tournai, Casterman, n.a.
4. An outdoor enthusiast with an abiding love of nature and the St. Lawrence River, Adolphe-Basile Routhier regularly spent time in the Charlevoix region. He initially discovered the region as the result of his professional obligations; as a judge for the District of Saguenay, he was assigned to the courthouse in La Malbaie between 1873 and 1889. See Christian Harvey, "L'histoire du district judiciaire : de Saguenay à Charlevoix (1857-2001)," Revue d'histoire de Charlevoix, 38 (November 2001): 5-8. During this period, he lived in a house in the heart of the village of Pointe-au-Pic. In 1900, following in the footsteps of two of his friends, Judge Joseph Lavergne and the businessman Rodolphe Forget, he commissioned a summer home in Saint-Irénée. Named "Hauterive," the all-white house—nicknamed "our white château" by local residents—looked out over the St. Lawrence, which Routhier could admire to his heart's content when in residence during the summer. Routhier also had a chapel with a small bell tower built alongside the house. It was here in his Saint-Irénée home that Routhier passed away in June 1920.
5. The trial of "undue influence" pitted the federal member of parliament for Charlevoix, Pierre-Alexis Tremblay, against Sir Hector Langevin, a Conservative minister in the cabinet of Prime Minister John A. MacDonald. Defeated by Langevin in the federal election of 1874, Tremblay alleged that his opponent had received questionnable support from the Catholic Church during the campaign—notably because Langevin was the brother of a bishop, and the priests of Charlevoix had openly supported him. According to the suit filed, there had been "undue influence." The affair caused quite a stir. Judge Routhier was called on to preside the high-profile case, and unsurprisingly, dismissed the Liberal ex-candidate's case and confirmed Langevin's election. Had Routhier's decision been influenced by his personal ideological leanings? Many thought so, and 100 days later, Routhier's judgment was overturned in the court of first instance. Langevin was stripped of his victory and a new election was called; the Conservative was nonetheless re-elected with a 60 vote majority! For more on this affair, see the text by the Honourable Justice Jacques Dufour, "L'influence indue en procès," Revue d'histoire de Charlevoix, 38 (November 2001): 14-15.
6. This film, shot in Québec, can be viewed through Videotron's Eléphant service.
7. This section is inspired in large part by the section on the national anthem of Canada on the Canadian Heritage website.
8. A literal translation of the French lyrics is provided on the Canadian Heritage website http://www.pch.gc.ca/pgm/ceem-cced/symbl/anthem-eng.cfm:
O Canada! Land of our forefathers
Thy brow is wreathed with a glorious garland of flowers.
As in thy arm ready to wield the sword,
So also is it ready to carry the cross.
Thy history is an epic of the most brilliant exploits.
Thy valour steeped in faith
Will protect our homes and our rights
Will protect our homes and our rights.
9. For an overview of the debate, see: Les Perreaux, "Tinkering with O Canada is de rigueur – but not in French," The Globe and Mail, March 4, 2010. Available on the newspaper's website. 
Images
Vidéo
Document sonore
Documents PDF
Catégories