Menaud Maître-draveur
par Gauthier, Serge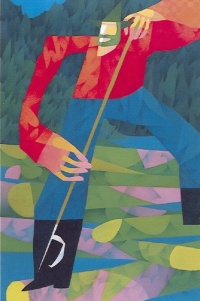 The French writer Gustave Flaubert (1821-1880) said "I am Madame Bovary". Similarly, the Quebec novelist and poet Félix-Antoine Savard (1896-1982) could have seen one of his characters as describing himself. As a matter of fact, Félix-Antoine Savard often allowed himself to be called "Menaud" by his friends without being bothered in the slightest. In Quebec French-languag eliterature, rarely has a character been so closely associated with its creator and even less frequently has such a character's presence been so overshadowed the author's life's work. In fact, with the exception of the novel Menaud, maître-draveur (first edition printed in 1937) the other works of Félix-Antoine Savard remain relatively unknown. The story and the legend of the main character often overlap and, as far as popular lore is concerned, Menaud might have been a real person. Over the years, people have understood this mythical, fictitious character in a wide variety of ways; whether he is interpreted from a social, cultural, political or even environmental point of view-and today he even plays a role in Quebec tourism.
Article disponible en français : Menaud maître-draveur
From Country Parish Priest to Renowned Writer
In order to effectively understand Menaud, maître-draveur [Menaud the River-Boss] it is necessary to take a closer look at the life and career of its author, who, over the course of his life, was both a priest and are nowned writer.(NOTE 1) The life of Félix-Antoine Savard can be divided into two distinct phases: the first in which, as an author, he was largely overlooked and the second, in which he was practically the victim of public overexposure. It was as if he had moved come from complete obscurity into a life of fame. However, these two phases of personal development are inseparable if one wants to better understand the remarkable journey experienced by the main character of the novel-even if Savard's later role as a "renowned writer" eclipsed his original role as a priest.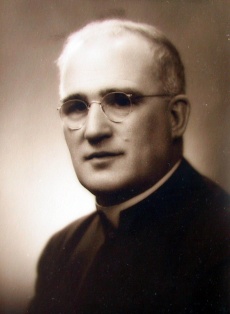 It was in the middle of the 1930's, as Félix-Antoine Savard ministered as country parish priest that he wrote Menaud, maître-draveur. As a curate he was responsible for a parish in Saint-Philippe-de-Clermont, a small agricultural town the Charlevoix region. Due to the growing success of the Donahue Brother's paper mill in the area, the paper industry would eventually come toplay a major role in the town's economy.(NOTE 2)The rural community was far from Quebec City, where Savard was born in 1896. However, his family moved to Chicoutimi while the young Félix-Antoine was still a child.(NOTE 3)  He studied at the Seminaire de Chicoutimi and was ordained a priest in the local diocese in 1922. After several years of teaching, Savard contemplated consecrating himself to the life of a monastic order. However, in the end, the Bishop of Chicoutimi named him as the curate of a parish in the Charlevoix region that had been under the control of the diocese since 1878. For Savard, this would be the providential moment that would enable him to discover Charlevoix, where, in his own words, he"wished live happily". As a curate in La Malbaie and Sainte-Agnès and as a church planting priest in Clermont, Félix-Antoine Savard often came into close contact with the life of the various labourers in the timber industry. So much so that he would often preach in the lumber camps in the back country of Charlevoix. He thought that the living conditions of the men he met were scandalous. The influence of this environment mixed with his encounters with Price Company (who had complete control of forests of Saguenay) gave him the necessary inspiration for creating his novel Menaud, maître-draveur. The novel was written almost entirely during Savard's spare time at the parsonage in Clermont.
Even though Savard had successfully published in 1937, the humble parish priest could not imagine that he would one day become a well-known acclaimed writer. Shortly thereafter, the book was met with resounding success and, due to the positive reviews Savard received for Menaud, maître-draveur, he was invited in 1940 to become a professor of literature at Laval University. Once having accepted this new academic role, he was obliged to leave the ministry, in order to concentrate on his new life as an intellectual. Félix-Antoine Savard would eventually have a profound influence on the academic milieu with the founding of the Archives de Folklore in 1944, a joint project in collaboration with his friend Luc Lacourcière (1910-1989). During his career, he authored several books such as L'abatis [The Slaughter], in which he tells the story of his mission work as a pioneering priest in Abitibi in the 1930's. He also wrote the novels La Minuit [Midnight] and Le Barachois and a play called La Dalle-des-Morts.(NOTE 4) However, Menaud, maître-draveur continued to occupy a significant place inhis thoughts. In addition to the 1937 edition of the book, Savard later published at least three new versions of his novel (1944, 1964 and 1967).(NOTE 5) In 1964, he left Laval University and moved to Saint-Joseph-de-la-Rive (Present-day Les Éboulements) in Charlevoix where he founded La Papeterie Saint-Gilles, a company specialised in artisan paper making. He died in Quebec City in 1982 and, with his passing, literary specialists and journalists convened to witness what they called the end of the père de Menaud [father of Menaud] and perhaps even the end of Père Menaud [Father Menaud], as he was affectionately called by many.
Menaud, Maître-draveur, a Quiet Narrative and a Tumultuous Tale
So much like Menaud, maître-draveur's oft-mentioned Rivière Noire [Black River], the historical context in which Savard's literary work grew to popularity was at times calm, but which sometimes grew rather tumultuous. Not only has the novel come to play quite an important role in Quebec culture, but it has also been translated into English and even into Romanian.(NOTE 6) In one of the films produced by Office du Film du Québec [Quebec Cinema Board] the novel is referred to in association with the Quebec region of Charlevoix. Soon thereafter, the expression "Au pays de Menaud" [Menaud's Country] came to designate the region whenever referring to regional artwork and local products made there during the 1970's.(NOTE 7)  From 1994 to 2007, a professor of philosophy, Guy Godin (1924-2007), petitioned Commissionde Toponymie du Québec [Quebec Geographical Names Commission], in order to gain recognition for the various place names associated with Savard's work. As a part of the endeavour to create Parc National des Hautes-Gorges-de-la-Rivière-Malbaie, he also lobbied for the recognition of the natural heritage value of the scenic areas associated with the novel.(NOTE 8) Located in the Charlevoix region's backcountry, the  park was finally created in 2000 by the Government of Quebec. Even painters such as René Richard (1896-1982), Jean-Paul Ladouceur (1921-1992) and Claude Le Sauteur (1926-2007) make reference to Savard's character, Menaud, in their various works.(NOTE 9) Evolving far beyond his literary origins, Menaud eventually became immortalized in legend. For many admirers of the novel, Menaud is a sort of patriotic hero with environmentalist leanings. It is interesting to note that writer Jean Des Gagniers published an entire book dedicated to rendering homage to Félix-Antoine Savard. In addition, Professor Yvan G.Lepage of the University of Ottawa did a considerable amount of research on Menaud, maître-draveur, including an extensive comparative study of the different versions of the novel.(NOTE 10)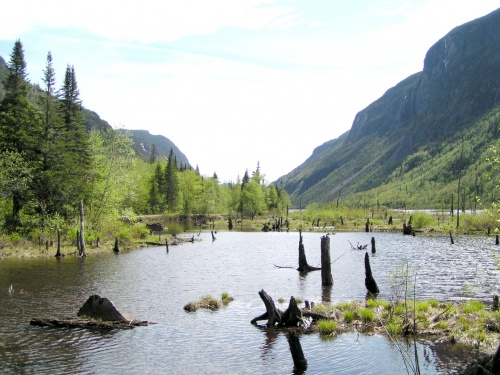 Félix-Antoine Savard's novel also tells a tale of hardship and adventure. The story deals with a controversial situation that has strong socio-political leanings and incorporates an obvious nationalist objective. One might say that, while writing the original edition of Menaud, Maître-draveur, Félix-Antoine Savard got a bit carried away with the novel's nationalist orientations. Later, when asked to comment on it, he was however quite a bit more reserved on the matter. In subsequent versions of the novel, it is even possible to notice his efforts to lessen Menaud's "nationalist cry", which is quite evident in the narrative, as Menaud, the main character becomes aware that he and his lovedones are under the domination of another culture, and so, he seeks to liberate them. The debate on the scope of the novel's political pretentions culminated in 1980, just before the referendum, when the film-maker, Pierre Perrault (1927-1999), criticized Savard for his federalist allegiance-which he considered to be a betrayal of the author's book and even of Menaud himself. Once again, Savard seemed almost trapped by the character he had created. His novel lost some of its nationalist significance after the May 1980 referendum. In 1998, Pierre Perrault wrote: "I am Menaud and Savard is God's poet."(NOTE 11)  And so, Menaud as a character was claimed by Perrault, as if he had been abandoned by his creator, who was no longer able to assume the weight of the political responsibility that went with being the author of a book with such portentous leanings. Perrault wasn't the only one to claim the so called "identity" of Menaud. Several accounts seeking to establish the real-life identity of the protagonist of Menaud, Maître-draveur have been circulating since the character's creation. Many have attempted to claim the identity of Savard's river-boss, who is nevertheless a fictitious character born of the author's fertile imagination.
Menaud, Fact and Fiction; from History to Folklore
The personal story of Félix-Antoine Savard influences his novel. In the beginning, the setting for the novel brings us back to a precise social and historical context, namely that of forest exploitation in the so-called "Kingdom of Saguenay". However in time, the novel takes on a more folkloric flavour. The novel clearly touches on several political issues. During his university career, Félix-Antoine Savard was preoccupied by patriotic thoughts, but would eventually turn to more ethnological or even folkloric interests. This was evident in his research at the Archives de Folklore at Laval University. Savard eventually allows himself to comment on his novel, and in time, draft a second version.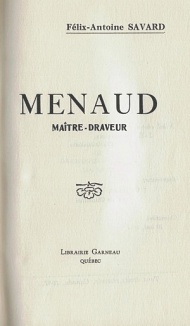 The initial effect of his effort is the reduction the social and historical discourse present in the original version of the novel. Thus, in the 1944 edition, the original 1937 wording "they forged their warrior spirit" became "they forged a strong spirit." This example is often used to demonstrate how the second version was watered down. Savard adds comments to the original wording which give it a more folkloric feel. For example, he identifies the Rivière Noire from the novel as the Rivière Malbaie. This moves the setting from the forests of Saguenay, which was his original inspiration, to the Charlevoix region. This effectively reduced the dramatic political feel of the story, since the forestry industry in Charlevoix was of lesser importance and the Price Company was not omnipresent there. It was also Savard's intention that, in identifying a real Menaud, the historical foundation of the story would be lost in folklore, thereby transferring it to oral tradition.
Where did the idea of identifying an historical Menaud come from?(NOTE 12)  We know that in Péribonka (in the Lac-Saint-Jean region), a lady once confused her identity with that of the main character of the novel Maria Chapdelaine by Louis Hémon. This happen stance was definitely profitable for the region's tourist industry. Perhaps it was a natural tendency that people tried to attach a real identity to Menaud. One difference is notable, however: Louis Hémon never identified a historical Maria Chapdelaine, but Félix-Antoine Savard did identify a real character for his story.
Indeed, Félix-Antoine Savard claimed that his inspiration for Menaud was, in fact, Joseph Boies (1887-1963), a forest worker in the Charlevoix backcountry, whose former residence is located in the present-day community of Saint-Aimé-des-Lacs in the Charlevoix region. This rules out the possibility of a certain Onésime Gaudreault (1835-1936) of Sainte-Agnès, who was nicknamed Père Menaud by the local population, well before the novel was released. Savard had apparently only borrowed his nickname. The confusion concerning the historica lidentity of Menaud has become an objet of folklore and is part of present-day oral tradition in the Charlevoix region. All this has added an element of mystery around the character and has oriented the debate around folklore rather than around its initial source. In this context, it seems that Savard deliberately fed the debate around his novel. The author apparently tried to anchor the story in the folklore of the Charlevoix region, which was his biggest concern at the end of his university career, rather than in the history of the Saguenay region where he had initially found his inspiration for the novel.  
Ever Present Signs of Menaud's Passing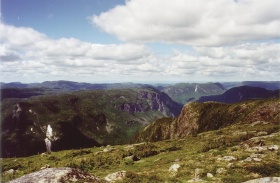 Folkloric remnants of the novel Menaud, maître-draveur remain, even to this day, and are particularly present in the provincial park, Parc national des Hautes-Gorges-de-la-Rivière-Malbaie, in Charlevoix. In the park, it is possible take a guided tour with an environmental flavour during which many references to novel are made. One can also visit an interpretation centre, follow the nature paths that wind through the area and even take a small boat tour on the river. References to the novel are made throughout the entire tour. The names given to natural landmarks witness to the influence of Savard's literary legacy. One can find names such as the Acropole des Draveurs [Log Driver's Steadfastness] or Mont Félix-Antoine-Savard. Menaudis firmly rooted in the landscape so cherished by the author at the end of hislife. Nevertheless, literary researchers continue to seek a more historical context for this toponymy, claiming that the original inspiration for Menaud was in fact the Saguenay region.
The novel is less present in academic programs in Quebec than it used to be, particularly in college literary curriculum. Even if this literary work was somewhat abandoned by Quebec nationalists after Félix-Antoine Savard took his stance on sovereignty during the 1980 referendum, it has since reappeared. In 2007, a novel published with the title "L'Acropole des draveurs. Pour faire suite à Menaud maître-draveur " [The Log Driver's Steadfastness. A Follow-up to Menaud Maître-draveur]. This novel attempted to continue the political debate surrounding Savard's novel. Two years later, a new introduction to the original 1937 version was printed. It attempted to further uncover the patriotic elements of the novel.(NOTE13) And the debate is not over, for the mythical riverboss continues to manifest in all his literary and political strength and his"warning cry" continues to inspire and raise questions.

Serge Gauthier, Ph. D.
Historian, ethnologist and writer
Researcher at the Centre de recherchesur l'histoire et le patrimoine de Charlevoix [Charlevoix History and Heritage Research Centre]
NOTES
Note 1. For further reading: Félix-Antoine Savard, Menaud, maître-draveur, édition critique par Yvan G. Lepage, Montréal, Bibliothèque du nouveau monde, Presses de l'Université de Montréal, 2004, 782 p.
Note 2. See "Centenaire Félix-Antoine Savard (1896-1996)", Revue d'histoire de Charlevoix, 23 (mai 1996), 24 p.
Note 3. See Roger Le Moine, "Le sang bleu de Menaud", Cultures du Canadafrançais, 1 (automne 1984), p. 10-32.
Note 4. L'abatis, Montréal, Fides, 1943, 209 p. ; La minuit, Montréal, Fides, 1948, 177 pages ; Le barachois, Montréal, Fides, 1959, 207p. ; La dalle-des-Morts, drame en trois actes, Montréal, Fides, 1965, 155 p. Pièce créée au Théâtre du Nouveau-Monde à Montréal.
Note 5. The editions retainedhere are those selected in Yvan G. Lepage's literary criticism, which wasalready cited earlier.
Note 6. Boss of the River, translated by par Allan Sullivan. Toronto, The Ryerson Press, 1947,131 p. ; Master of The River, traduit par Richard Howard, Montréal, Harvest House, 1976, 135 p. ; Menaud omul padurii, traduit par Alexandrina Andronescu, Bucarest, Éditions Univers,1978, 164 p.
Note 7. Le pays de Menaud (Félix-Antoine Savard), Office du film du Québec, réalisation : Claude Grenier, 16 mm couleur, 28 minutes, septembre 1970.
Note 8. In particular, see: Guy Godin, "À la recherche des montagnes de Menaud", Revue d'histoire de Charlevoix, 23 (mai 1996), p. 2-4. Guy Godin also wrote additional arcticles on the topic in numbers 25 (juin 1997, p. 16-18), 35 (novembre 2000, p. 6-9), 44 (octobre 2003, p. 11-15) in the Revue d'histoire de Charlevoix.
Note 9. Menaud maître-draveur, Montréal, Éditions La Frégate, Imprimerie Laflamme, illustrations de René Richard (sérigraphies et crayon), 1979, 188 p. ; Menaud maître-draveur, Montréal, Fides, Imprimerie Boulanger, conception et réalisation par Henri Rivard avec illustrations de Jean-Paul Ladouceur, 1992,189 p. See also "Le monde habité de Claude Le Sauteur", Revue d'histoire de Charlevoix, 56 (juin 2007).
Note 10. Jean Des Gagniers, Monseigneur de Charlevoix, Montréal, Fides, 1996, 278 p. It is appropriate to mention the biography which remains unfinished due to the death of Yvan G. Lepage in 2008.
Note 11. Pierre Perrault, "Réponse de Menaud à Savard. Le royaume des pères à l'encontre des fils", Le Devoir (28 janvier 1978), p. 33 et 48. See also Pierre Perrault, De la parole aux actes, Essais, Montréal, Éditions de l'Hexagone, 1985, p. 341-362. In a hand-written note dated August 1998 in the archives of the Société d'histoire de Charlevoix, Perrault makes reference to the choice of Félix-Antoine Savard to indicate the title "Poète de Dieu" on his gravestone located in the cemetery of Saint-Joseph-de-la-Rive. See, also regarding this question, Heinz Weinmann, "Menaud, fils de Perrault ou deSavard?", Voix et images, 3 (avril 1978), p. 396-406.
Note 12. See Serge Gauthier, "Félix-Antoine Savard. Le père de Menaud" on the site of Encyclobec.ca of INRS, Culture, Société et Urbanisation, more details on this question.
Note 13. Serge Gauthier, L'Acropole des draveurs. Pour faire suite à Menaud maître-draveur, Québec, Éditions du Québécois, 2007. 142 pages ; Menaud maître-draveur (édition originale de 1937), avec une introduction de Serge Gauthier, Québec, Éditions du Québécois et Éditions Charlevoix, 2009, 232 p.
Images
Documents PDF
Hyperliens
Catégories