Lac Sainte-Anne: A Franco-Amerindian Place of Pilgrimage
par Kermoal, Nathalie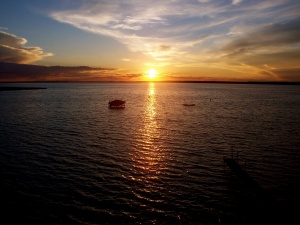 On July 24th, 1991, Douglas Crosby, president of the Oblate Conference of Canada, chose the sacred shores of Lac Sainte-Anne to present, on behalf of 1200 oblates, his official apology to the First Nations of Canada for the negative effect that the time spent in residential schools had on aboriginal peoples. His choice of location was no coincidence, for in native spiritual tradition, Lac Sainte-Anne is a place of great importance. Furthermore, it is also an important landmark in the history of Franco-Indian relations in Western Canada. Located approximately sixty kilometres northwest of Edmonton in the heart of Alberta, Lac Sainte-Anne was an ancestral gathering place. Since 1889, native peoples (Cree, Dené, Black-Foot and Métis) have come to the lake to celebrate Sainte Anne's Day. Every year in July, between 35,000 and 40,000 pilgrims from Canada and the United States gather on the lakeshore. On July 19th, 2007, Parks Canada and the Historical Sites and Monuments Board of Canada unveiled a plaque commemorating the historical importance of this gathering place.
Article disponible en français : Lac Sainte-Anne : un lieu de pèlerinage franco-amérindien
Manito Sakahigan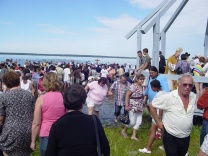 Every year, large numbers of people travel to Lac Sainte-Anne. Although some live close to the lake, others travel hundreds or even thousands of kilometres to immerse themselves or just to dip their feet in lake's supposedly miraculous waters. Young and old, parents and children alike gather for this occasion. Travellers bring back small bottles filled with water from the lake with the hope that it will help heal a relative, a friend, or themselves. For many natives, this site is as much a place of social, cultural and spiritual renewal, as it is a place to socialize and meet with friends and family.
According to oral tradition, during the summer, Lac Sainte-Anne, or Lac du Diable [Devil's Lake], was a gathering place where many native peoples would fish and hunt small game. They would also gather berries on the lands surrounding the lake. Archaeological digs carried out in 1979 confirmed that there was a human presence in the region before the arrival of Europeans.(NOTE 1)  In fact, according to members of the First Nations, the lake had always been inhabited by spirits. For the Cree, it was called Manito Sakahigan or "Lake of Spirits" but also called Wakãmne or "Sacred Lake". Enemies would put aside their differences when they came to the lake to purify themselves. People would come to the lake in search of visions and dreams. Numerous legends say that goblins were the lake's keepers and that it was not uncommon to hear the beat of their drums. Since the arrival of missionaries, these sounds have disappeared. According to Adam Rains of the Alexis First Nations Reserve, born in 1898: "The goblins are still there, they come out at night, and there they will remain there for eternity [...] when the time of the blessing of the lake comes they are there helping people to heal."(NOTE 2) 
The Native peoples also came to observe certain rites and ceremonies, such as the sun dance-until it was banned in 1885. The arrival of missionaries in the region changed the group dynamics somewhat. Catholic beliefs were however able to mix with those of the natives. 
The Catholic Mission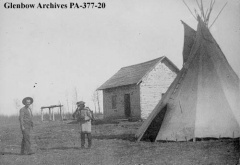 Already a sacred Native pilgrimage site for centuries, the location became a Catholic Mission in the 1840s. In 1839, the Hudson's Bay Company invited the Wesleyans to found a Mission in Norway House in Manitoba and in Fort des Prairies (Edmonton)(NOTE 3) Concerned about competition from Protestant groups, Mgr. Norbert Provencher, Bishop of Saint-Boniface (Manitoba), decided to extend Catholic influence farther into Western Canada by concentrating efforts on proselytising the First Nations and maintaining the Catholic faith within the Métis population. Having received authorisation from Governor George Simpson to establish a mission in Fort des Prairies, Provencher decided to send Jean-Baptiste Thibault, (a parish priest) to found a mission at Lac du Diable, which he later renamed Lac Saint-Anne.(NOTE 4)
The Métis were already living in the region and during the 1800's, they lived close to the lake, where they fished and hunted for bison. The region was thickly forested and abounded in fur-bearing animals and fish. Until the 19th century, bison were also prolific in the area surrounding Fort Edmonton, as well as in the area between Edmonton and Rocky Mountain House, a Hudson's Bay Company trading post located farther west in the Rockies. Gabriel Dumont senior (the uncle of Métis military chief Gabriel Dumont who took part in the events at Batoche in 1885) would eventually found of the village of Lac Sainte-Anne, which by the 1850's would already have a population of more than 200 inhabitants. The diminishing bison herds forced the population to move their hunting activities south to Tail Creek, or Lac du Boeuf [Ox Lake], located close to present-day Red Deer.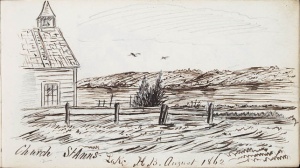 Because they regularly supplied Fort Edmonton with fish, the Métis had numerous opportunities to meet Father Jean-Baptiste Thibault. It is unknown whether the Métis actually asked Father Thibault to move to the area-though it is very probable that this was the case. The Métis, already being Catholic, would likely have preferred to have a priest among them. In October of 1843, Father Thibault visited the area for the first time. While there, he baptized several Métis children. Some examples of family names at the time were L'Hirondelle [Swallow], Arcand and Campion. Other families from Edmonton, Cold Lake and Lac-la-Biche [Doe Lake] also came to visit the priest.(NOTE 5)  As a result, more baptisms were the order of the day and the place quickly became a permanent mission. Father Thibault, who was greatly devoted to Saint Anne, named the lake after the saint once he had blessed it.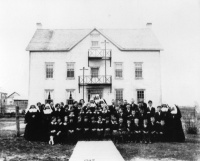 Father Thibault understood the advantage of settling at Lac Sainte-Anne, which, from a geographical point of view, was very well located. Lac Sainte-Anne would prove to be the ideal choice as an outpost to create other missions in the North, as well as toward the south in the Blackfoot Confederacy. This location allowed for the establishment of a missionary base close to Île-à-la-Crosse [Crook Island], Fort Edmonton, Cold Lake, Lac-la-biche, Fort Pitt, Fort Carlton, Lesser Slave Lake, Rocky Mountain House and Jasper. Until 1852, Father Thibault and Father Bourassa would provide the necessary services for proselytising the Native populations of the region. Another missionary by the name of Father Albert Lacombe came to join them in the 1850's. From that time on, the Oblates would run the mission with the help of three Sisters of Charity (Grey Nuns), who would open a school and a health clinic in 1859. In the beginning, the sisters took in only two young girls with hopes that more children would come to board there. They noted that it was difficult to attract new students because the Métis were forced to spend long periods of time roaming the prairies in order to ensure their own survival.
In 1860, Bishop Alexandre Taché (who replaced Norbert Provencher) passed through Lac Sainte-Anne, where he celebrated Christmas Mass in grand fashion. However, his visit marked another event that would have a negative impact on the Lac Sainte-Anne Mission. Despite the fact that many had been converted, the 3,266 baptisms and the 173 marriages on record for the 1842 to 1862 period were not considered to be sufficient numbers to justify maintaining Lac Sainte-Anne as a viable long-term mission.(NOTE 6)   To make matters worse, the soil in the region was not fertile enough for farming. This forced the missionaries to move south in search of more fertile soil. Bishop Taché and Father Lacombe chose to settle in Saint-Albert, where they built a new mission in 1861. That year, 30 Métis families from Lac-Sainte-Anne followed Father Lacomb to Saint-Albert. Following this exodus, Lac Sainte-Anne suffered a significant decrease in population and activity.
A Place of Pilgrimage
Although there was a time when abandoning the mission was a consideration, one event changed the destiny of Lac Sainte-Anne forever. After spending 30 years away from his native country, in 1887, Father Jean-Marie Lestanc of Brittany returned to France where he visited Sainte-Anne d'Auray. While there, he had a vision of Saint Anne, who apparently asked him not to abandon the mission in Western Canada, but to return there to restore veneration to her and to establish a sanctuary for her. Upon his return to Canada, Father Lestanc convinced the Bishop of Saint-Boniface, Vital Grandin, of the importance of such an endeavour. Hence, a building was constructed for welcoming pilgrims, so they could participate in various ceremonies and also for conducting masses. The good news spread quickly and, on June 6th, 1889, around a hundred people took part in the first pilgrimage. A second pilgrimage was organized by Father Lestanc on the 25th and 26th of July the same year. Four hundred people made the pilgrimage in time for Saint Anne's Day. The tradition grew and has gained in popularity even to the present day.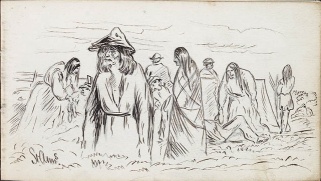 Like many Métis, Alvina Strasbourg (nee Laboucane), remembers that each year, her family would make the pilgrimage from Fort McMurray to Lac Sainte-Anne. Despite the distance, families wouldn't hesitate to bring the weakest among them. In fact, from 1889 on, most of the pilgrims were Métis or members of the First Nations. On the agenda would be masses, processions, confessions, prayers and hymns. Non-natives would also take part. Depending on the weather or whether there was risk of an epidemic, the number of pilgrims fluctuated from year to year. In 1927, 4,000 people made the pilgrimage, among which were members of the First Nations coming by train from Saddle Lake and Cold Lake (Alberta). In 1935, 2,000 natives and 1,200 non-natives were present.(NOTE 7)  In the beginning, pilgrims came mostly from Saint-Albert and from Lac Sainte-Anne, however, in time, they eventually came from all across North America, from as far as Ile-à-la-Crosse, Beauval, Wabasca, Cold Lake, Legoff, Saddle Lake, Hobbema, Cluny, Brocket, Cardston, the Dakotas, Montana, California, etc.(NOTE 8)
Every pilgrim had his or her own motives for participating in the event. For the Natives, there was a particularly meaningful reason: the pilgrimage allowed them to come together at a time when those who lived on reserves didn't have the right to leave unless they obtained permission from an Indian Agent. Getting permission involved a "pass system", which had been established by the federal government following the 1885 uprising in Saskatchewan. And so, the pilgrimage was a way for separated family members and friends to meet without being suspected of plotting a rebellion. It also replaced certain celebrations and social activities that were associated with the bison hunt.(NOTE 9)   Despite the event's very Catholic nature, the natives never truly abandoned their own traditional beliefs.
The Blending of Religious Beliefs (Syncretism)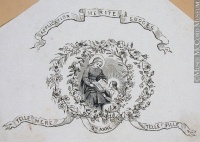 There is no question that the Native populations were influenced by Christianity. However, for Natives, the appeal of the pilgrimage goes beyond the Catholic faith, particularly because it incorporates certain characteristics already present in Native spirituality. The First Nations and the Métis do not pray to Saint Anne because she is the mother of Mary, but rather because she is the grandmother of Jesus. For the Cree, she is "N'okkuminân" which means "grandmother". Saint Anne is a symbolic representation of all grandmothers who are greatly respected by native peoples for their knowledge and wisdom. Therefore, for some, the most important thing is simply to pray, whether it be in the context of a Catholic ceremony or not. Veronica Morin, from the Enoch Reserve, states the following: 
I know Indian teachings and I know church teachings, and what the old people said to us [...] if you can't pray in accordance with your own beliefs, at least pray in a church, someplace, pray. [...] They prayed in the Catholic Church, but it really doesn't matter where you pray and how you pray, as long as you do. (NOTE 10)
The miracles of Saint Anne also made it possible for the Natives to combine their beliefs, which the priests considered to be pagan beliefs, with Catholic rituals that were accepted by all. According to oral tradition, during first year of the pilgrimage, the whole region had been affected by drought. It is thought that the prayers addressed to Saint Anne were what made the rain begin to fall. Oral tradition also included stories of sick people recovering suddenly after bathing in the lake.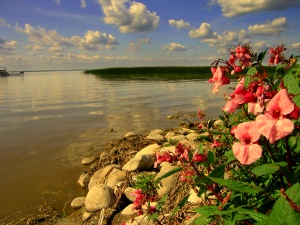 Over time, the pilgrimage has gained in popularity and continues to attract increasing numbers of pilgrims. Despite the commercial aspect of the event, it remains a heritage site where many come to meditate. For many years, drums were banned at the site, but now they beat freely-an indication that times have changed. The pilgrims-whether they be Native or not-come for the same reasons as they did in the past. In addition to hoping to grow in their faith, they also seek hope itself-and, deep inside themselves, they hope to find healing for their bodies and souls.
Nathalie Kermoal
Associate Professor
Faculty of Native Studies and Campus Saint-Jean of the University of Alberta
NOTES
Note 1: Remains of arrowheads dating from 5,000 to 6,000 B.C. found on the site in 1994. Steve Simon, Healing Waters: The Pilgrimage of Lac Ste. Anne, Edmonton, University of Alberta Press, p. 7.
Note 2: Steve Simon, p. 10.
Note 3: Martha, McCarthy, From the Great River to the Ends of the Earth: Oblate Missions to the Dene, 1847-1921, Edmonton, University of Alberta Press/Western Canadian Publishers, 1995, p. 30.
Note 4: It is difficult to determine why the Lac des Esprits [Spirit Lake] was called Lac du Diable [Devil's Lake] when the missionaries arrived. The particularly dangerous waters of the lake could account for this name.
Note 5: E. O. Drouin, Lac Ste. Anne Sakahigan, Edmonton, Éditions l'ermitage, 1973, p. 11-12.
Note 6: Drouin, p. 35.
Note 7: Drouin, p. 57
Note 8: Drouin, p. 53.
Note 9: Nathalie, Kermoal, Un passé métis au féminin, Québec, Éditions GID, p.194
Note 10: Simon, p. 4.
BIBLIOGRAPHY
Drouin, E. O., Lac Ste. Anne Sakahigan, Edmonton, Éditions l'ermitge, 1973, p. ?
Huel, Raymond, Proclaiming the Gospel to the Indians and the Métis, Edmonton, University of Alberta Press, 1996, 387 p.
Kermoal, Nathalie, Un passé métis au féminin, Québec, Éditions GID, 2006, 269 p
McCarthy, Martha, From the Great River to the Ends of the Earth: Oblate Missions to the Dene, 1847-1921, Edmonton, University of Alberta Press/Western Canadian Publishers, 1995, 269 p.
Simon, Steve, Healing Waters: The Pilgrimage of Lac Ste. Anne, Edmonton, University of Alberta Press, 1995, 80 p.
Strasbourg, Alvena, Memories of a Métis Woman: Fort McMurray Yesterday and Today (no publication information given).
Images
Document PDF
Hyperliens
Catégories