Mid-Lent Traditions in Acadia
par Arsenault, Georges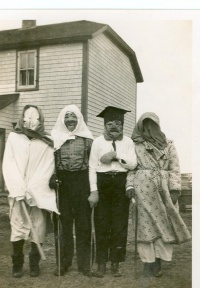 The Mid-Lent celebration remains a vibrant living tradition in several Acadian regions of Eastern Canada.  In Cheticamp and Saint Joseph du Moine on Cape Breton Island, in Fatima on the Magdalen Islands, and in Natashquan and Pointe-Parent in Quebec's Côte Nord region, the annual Mid-Lent outing is a rich tradition that has survived since the arrival of the first settlers.  On Prince Edward Island, in the Tignish and Palmer Road parishes, a number of families have kept alive another tradition:  the annual visit of the mysterious Mi-Carême [Mid-Lent] a mythical [female] figure who brings sweets to well-behaved children.  These communities have maintained traditions of French origin formerly known throughout Acadia as well as in a number of regions of the Province of Quebec. 
Article disponible en français : Mi-Carême en Acadie
Mid-Lent: a Welcome Break from the Long Fast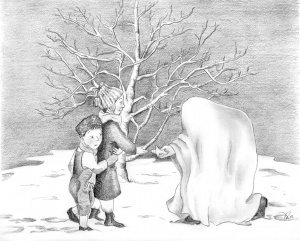 Falling after Christmas, New Year's, Epiphany, Candlemas, Shrove Tuesday, Fat Thursday and the other feast days, Mid Lent was the last winter feast day of the traditional Acadian calendar (NOTE 1). In the past, it was particularly popular, as it took place right in the middle of Lent.  Lent is an austere period of fasting in the Roman Catholic calendar typically associated with penance and bodily mortifications. The fast takes place during the 7 weeks (40 days) before Easter.  Daily life changed abruptly after the festivities of Shrove Tuesday, and the number of religious rites and observances increased exponentially, as a West Pubnico, Nova Scotia newsprint correspondent for the L'Évangéline writes in 1935:  "We have left games and amusements behind us and entered a period of penance.  The Wednesday morning mass and the evening Way of the Cross attracted large crowds, and a good many people received ashes.  We have the Way of the Cross and the Blessed Sacrament every Wednesday and Friday evening during Lent."(NOTE 2)
Mid Lent is celebrated on the fourth Thursday of Lent.  Like Easter, it is a moveable feast, taking place on a different date every year, but always between February 26th and April 1st.  Many people would take advantage of Mid-Lent day to "break the fast," temporarily leaving aside their penances and even indulging in a bit of merrymaking, such as card playing, music, dancing, and consuming of sweets and various dishes that they would have to do without during the rest of Lent.  Of course, there was also the masquerade, which would perhaps include the annual visit of Mid-Lent revellers or of even Mi-Carême herself. 
Mi-Carême: a Mythical Figure
At one time in most Acadian villages of Prince Edward Island, in a number of communities of South-eastern New Brunswick, and in at least one community in Nova Scotia, small children used to receive a yearly visit from Mi-Carême, a solitary figure who brought them sweets during Mid-Lent. In an article published in L'Évangéline in 1888, Father Philias F. Bourgeois (1855-1913) is the first person to describe Acadia's Mi-Carême.  He compares the story of this shadowy figure to the Legend of Santa Claus:
The story follows the same lines as that of the English Santa Claus.  Mid-Lent is said to be represented by a beggarly old crone.  At the mid-point of the 40-day fast, she visits each and every home to find out how the children have been behaving.  She rewards those who have been good, obedient children, but the naughty ones she punishes. She is sometimes even known to carry away the most wayward ones with her (NOTE 3).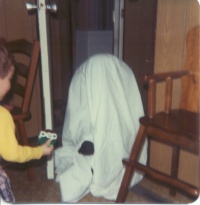 Like Santa Claus, Mi-Carême would sometimes visit discreetly, without even being noticed.  She would leave sweets for the children somewhere in the yard, for example on top of the woodpile where they had carefully placed their caps, hoping to have them filled with presents.  However, this mythical figure would usually arrive at the door of the family home and to hand-deliver the sweets to the children. She would usually offer them treats such as brown-sugar fudge, toffee, cookies, and even apples.
More often than not, Mi-Carême would appear dressed simply in a white sheet or cover, holding a cane in one hand and a big bag in the other.  She never failed to frighten the children, as Anne-Marie (LeClair) Perry, born in 1917 in Tignish, Prince Edward Island, recounts:
Back home, Jos Nézime always played Mi-Carême.  He was one of my mother's old uncles.  After supper, he got all dressed up and then came back out as Mi-Carême.  He always had a large cover and a big cane.  I was scared to death.  He arrived with a sack and put it down in the usual place without saying a word.  We all took turns coming over to get our [present].  It was usually an apple, or a piece of toffee, or something like that.  I was scared because he had the big cane (NOTE 4).
This particular tradition of Mi-Carême distributing sweets to the children has virtually disappeared from the Acadian countryside except in the West Prince region of Prince Edward Island, where a number of families have held on to it as a precious family tradition.  Some families have gotten rid of the dark, threatening aspect of the character's personality.  Furthermore, Mi-Carême no longer necessarily makes her yearly visit on the very day of Mid Lent.  For instance, it might take place on the following Sunday, at a family gathering during Lent, or on any other day during the winter.  And she brings a greater variety of gifts than in the past, including little treats that the children really like, such as chewing gum, chips and soda pop. Mi-Carême will sometimes also pay a visit to the region's schools and will extend her rounds to rest homes, in order to visit the community's elderly.  Moreover a number of people see this ancient French tradition, as an opportunity to promote the Acadian culture and identity in a region where the ongoing preservation of the French language is a day-to-day struggle.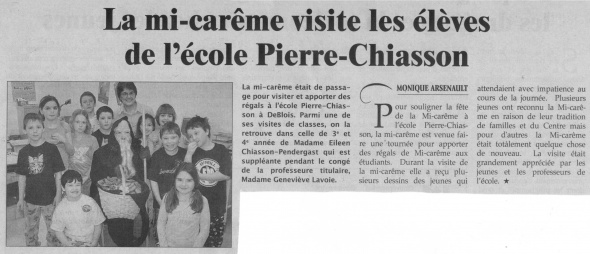 [Mi-Carême dropped in for a visit and brought goodies to the Pierre Chiasson School in DeBlois.  We caught up with her during one of her classroom visits, as she greeted the pupils of Eileen Chiasson-Pendergast's third and fourth-grade class. Eileen is subbing for Geneviève Lavoie, the regular teacher, who is on leave.
To celebrate Mid-Lent with the children of Pierre Chiasson School, Mi-Carême popped in for a visit, bringing Mid-Lent treats to the pupils.  During her visit, she received a number of drawings from the children, who had been eagerly awaiting her arrival all day long.  A number of children were familiar with Mi-Carême, because of their own family traditions and because of past celebrations at the Centre [de la Mi-Carême]. For others, however, she was altogether something of a novelty.  The visit was greatly appreciated by the school's children and their teachers alike.]
Making the Mid-Lent Rounds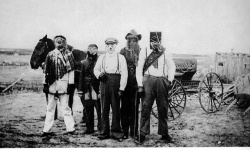 Making the Mid-Lent rounds from one house to another in groups was the most popular of all the Mid-Lent traditions in Acadia.  These Mid-Lent revellers quite simply went door to door, all the while trying to avoid being recognized by their hosts.  And when offered a sweet or an alcoholic beverage, they accepted with pleasure, downing the food or drink right on the spot.
The oldest description of these Mid-Lent rounds in Acadia comes from Nova Scotia and dates from 1888.  In his description of the tradition, Father Philias F. Bourgeois, widely considered to be the forerunner of Acadian ethnology, reports that:
The fourth Thursday of Lent was greeted with heartfelt joy by young and old alike.  At nightfall, the young people would band together in groups, donning masks and all sorts of weird costumes. Armed with bells, drums, old pots and pans, they would quickly decide on routes they would take and the round of homes they would visit.  Then a group leader was selected, and the march began.  They had to knock at every door, for, like it or not, no home could escape the antics of these jolly revellers with the exception of those still mourning the recently deceased [...].  Solemnly, the disguised visitors would enter each house; they lined up in some semblance of order in the living room and then the concert began [...].  The visit would be topped off by a delicious snack prepared by the maid.  The whole company of revellers would eat with gusto before bidding their audience goodbye. Then they would set off to bring some good cheer to the other neighbours of the area (NOTE 5).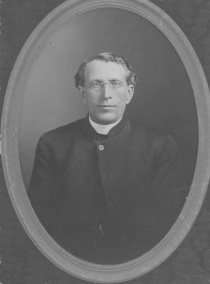 For many years only men were allowed to make the Mid-Lent rounds.  Women and children had to wait until the turn of the 20th century before they were permitted to participate in the Mid-Lent rounds.  Depending on the village and the period, there were an interesting number of variations in the tradition, but overall, Acadia's Mid-Lent festivities had one common characteristic:  they were marked by widespread joy and good humour.  The Mid-Lent revellers' visit would create momentary break in the dullness and silence of the lengthy Lenten period.  Dressed in strange costumes and carrying canes, bells, noisemakers and makeshift drums, they went from one end of the village to another, on foot, by sled and, much later, by car.
They would burst noisily into the kitchen of every home they visited.  Their hosts would carefully examine each reveller in hopes of discovering his or her identity.  Revellers who dared to speak would attempt to disguise their voices and say only a few words.  If they talked too much, they might end up spilling the beans.  When one of the visitors was recognized, off came the mask, followed by the host offering them a sweet-and sometimes an alcoholic beverage.  Mid-Lent revellers liked to dance and really enjoyed visiting the homes of musicians.
Mid-Lent costumes were, more often than not, improvised disguises made from old clothing.  Women's garments would regularly serve as disguises for boys and men, while girls and women would don apparel of the opposite sex.  Such "gender bending" made it more difficult to recognize who was who.  To create some semblance of a mask, revellers would slide various objects over their heads:  a paper bag, a cardboard box, a cotton or nylon stocking, a pillowcase, even a shirtsleeve or a pair of men's underwear.  Little holes were cut for the eyes, nose and mouth.  There was even a time when some revellers used the actual skins of wild and domestic animals for their disguises.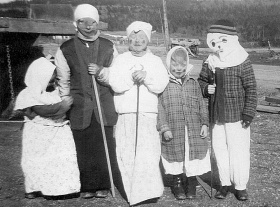 Today, the tradition of the Mid-Lent rounds is becoming more and more rare in Acadia.  The Second World War (1939-45) seems to have had a certain impact on the custom, especially in regions where the masqueraders were primarily men.  When Canada entered the war, the young men-who were the keepers of the tradition-left their villages in droves to enlist in the armed services or to move to the city where it was easy to find a job in the war industries.  With the young men gone, there were few people left to keep the tradition of the masquerade alive.  It would seem, however, that the Acadian Mid-Lent festivities especially began to lose their original vitality during the 1960s; for after Vatican II (1962-65), Lent lost much of its austere character, and so Mid Lent lost much of it reason for being as well.  Before long, the fourth Thursday of Lent began to pass practically unnoticed and any desire to make the Mid-Lent rounds declined thereafter.
Mid Lent:  a Tradition that Refused to Die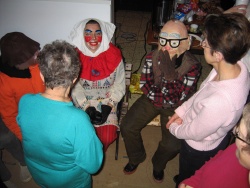 While the tradition of making the Mid-Lent rounds was losing ground in most Acadian communities during the 1950s and 1960s, the opposite was occurring in Cheticamp and Saint Joseph du Moine in Nova Scotia, as well as in the Fatima parish on the Magdalen Islands and in Natashquan in the Côte Nord region of Quebec.  In these communities-which are all of Acadian origin-the number of masked revellers was on the rise and celebrations would extend over a number of days. 
Nevertheless, by the end of the 1980s, there were clear signs that the tradition was beginning to decline as well. This was particularly becoming evident in the decreasing number of households that would open their doors to Mid-Lent revellers.  But then, community organisations joined forces, in order to ensure that the tradition would not be lost.  The celebration was promoted throughout the community; competitions and community evenings were organized; and the festivities were stretched out over the entire week.  Thus the Mid-Lent festivals were born.
Today, on Cape Breton Island, Mid-Lent revellers wander about from Sunday to Saturday, popping in to visit day and night.  The most popular homes of the community receive as many as a thousand visits!  A few social clubs also open up their doors to these colourful visitors and they are warmly welcomed at seniors rest homes, residences for the disabled, and of course at the Centre de la Mi-Carême in Saint Joseph du Moine.  The Centre, an initiative of the Association de Développement de Saint Joseph du Moine, opened in 1998 and was originally intended as a tourist attraction with the mission of interpreting the traditional holiday for visitors.  The Centre also attempts to create jobs in a region that has been seriously impacted by the moratorium on cod fishing. More specifically, it offers a training program for the unemployed that is intended to develop skills, which it hopes will assist with developing a local micro industry for manufacturing Mid-Lent souvenir products. The Association aims to start its initial product line with the creation of Mi-Carême masks.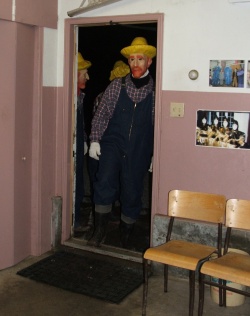 In the Côte Nord region of Quebec, although the populations of Natashquan and Pointe-Parent are rather small, the Mid-Lent experience is very intense indeed.  Nearly two-thirds of all households receive Mid-Lent revellers and a good many residents of all ages don costumes for the occasion.  Dyed-in-the-wool enthusiasts disguise themselves from the very earliest days of the festival, but "house calls" begin mainly in mid-week.  Children also take part in the festivities.  The youngest ones put on their disguises in the afternoon, while the oldest go door to door with their friends or accompany their parents in the evening.
In Fatima, on the Magdalen Islands, the festival is nowadays very popular, especially among adults.  On the other hand, the festival's promoters are working to integrate children and teenagers as well, in an effort assure the continuity of the tradition.  For the last few years, the kindergarten and first-grade children from Fatima have regularly been given Mid-Lent Thursday and Friday off, while the only high school on the islands has done the same for Mid-Lent Friday.  In this way, teens and children can enjoy the festival more fully, having an opportunity to participate in the masquerade and stay up late at night to watch the joyful comings and goings of the Mid-Lent revellers.  In collaboration with the local Optimist Club, the festival's organizers have made sure that the children's Wednesday Mid Lent activities take place from 6:00 p.m. to 8:00 p.m. 
Although the island lifestyle has changed a very great deal since the 1960s, today, no one wants to give up this cherished old custom. Isabelle Cummings, member of the Magdalen Island Mid-Lent Festival Committee, is convinced that the Mid-Lent celebrations still have a place in modern society:
It's such a beautiful tradition.  Lent isn't necessarily observed by everybody like it used to be, but an event like Mid Lent still gives us a chance to have a winter break.  Even if we live in an outlying region, away from the hustle and bustle of the big city and although we enjoy an excellent quality of life, we're still part of a society where we're always in a rush, always running around, It is a world of constant stress, where we work so much and have so little time to connect with our neighbours.  So this little three-day break does us all a world of good.  People interact with one another, take the time to renew old acquaintances and get back in touch.  And that's just so important (NOTE 6).
An Ever-changing Tradition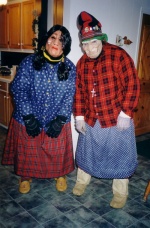 Mid-Lent celebrations have changed a great deal over the generations.  Whereas, in the more distant past, Mid Lent was celebrated practically all across Acadia, in the 20th century it is limited to a few regions.  The basic components are however still the same: the masquerade, the door-to-door visits, the hospitality, the music, the dancing, the treats and even the alcoholic beverages.  But there have been some changes.  In the early days, Mid-Lent rounds were made only by men, but nowadays people of both sexes and of all ages can take part.  In places where Mid Lent remains a community festival of great importance, these changes have contributed to the renewed popularity of this ancient celebration.  Thus, in order to ensure its survival Mid Lent has been adapted to contemporary life, moving from being a two-day celebration to becoming a week-long festival that includes a wide variety of activities.  And so this tradition that has become such an integral part of Acadian heritage is renewed and continues to flourish in Eastern Canada. 

Georges Arsenault
Acadian folklorist and historian
NOTES
Note 1:  In Quebec the Mid-Lent festivities also continue to be celebrated on Île-aux-Grues, a tiny island community located some 100 kilometres east of Quebec City. 
Note 2:  L'Évangéline, March 14th, 1935, p. 5.
Note 3:  Philias F. Bourgeois, "La Mi-Carême et nos coutumes d'autrefois," L'Évangéline, March 7th, 1888, p. 2.
Note 4: Centre d'études acadiennes, coll. Georges Arsenault, enreg. 1275.
Note 5:  Philias F. Bourgeois, "La Mi-Carême et nos coutumes d'autrefois," L'Évangéline, March 7th, 1888, p. 2.
Note 6: Centre d'études acadiennes, coll. Georges Arsenault, enreg. 1983.
BIBLIOGRAPHY
Arsenault, Georges, La Mi-Carême en Acadie, Tracadie-Sheila, La Grand Marée, 2008, 161 p.
Bourgeois, Philias F., "La Mi-Carême et nos coutumes d'autrefois", L'Évangéline, March 7th, 1888, p. 2.
Chiasson, Anselme, Chéticamp. Histoire et traditions acadiennes, Moncton, Éditions des Aboiteaux, 1972 (3rd edition), 317 p.
Chiasson, Anselme, Les îles de la Madeleine. Vie matérielle et sociale, Montréal, Leméac, 1981, 272 p.
Desdouits, Anne-Marie, La vie traditionnelle au pays de Caux et au Canada français. Le cycle des saisons, Quebec City, Les Presses de l'Université Laval, 1987, 439 p.
Dunnigan, Pierre et Francine Saint-Laurent, Mi-carême. Une fête québécoise à redécouvrir, Montréal, Les 400 coups, 2006, 117 p.
Dupont, Jean-Claude, Héritage d'Acadie, Montréal, Leméac, 1977, 376 p.
Gauthier, Serge, "La mi-carême dans Charlevoix", Revue d'histoire de Charlevoix, no 35 (November 2000), pp. 2-5.
Labelle, Ronald, "La mi-carême.... Une pause au milieu du jeune", Troubadour, vol. 5, no 3, Winter 1982, pp. 6-7.
Landry, Bérangère, "La Mi-carême. Une coutume venue du Moyen-Âge", Bulletin du Centre de valorisation du patrimoine vivant, vol. 2, no 2 (April 1995), pp. 3-8.
Landry, Bérangère, "Vous prenez t'y des mi-carêmes?", Cap-aux-Diamants, no 64, Winter 2001, pp. 20-25.
Rodrigue, Denise , Le Cycle de Pâques au Québec et dans l'ouest de la France, Quebec City, Presses de l'Université Laval, 1983, 333 p.
Roy, Carmen, "Le carnaval-carême en Gaspésie", Bulletin no 125 du Musée national du Canada pour l'année financière 1951-1952, Ottawa, 1953, pp. 91-97.
VIDEOS
Mi-Carême à Fatima, Îles de la Madeleine : La Mi-Carême, Mimaji Productions, 2006, directed by Éli Laliberté et Parick Guité.
Mi-Carême à Natashquan :  Attendez que je vous raconte, Télé Québec, 2002, directed by Alexandra Angers.
CDs
Gilles Vigneault, "La mi-carême", Avec les mots du dimanche, 1979, Le Nordet, GVN -1011/12.
Images
Hyperliens
Catégories