Gabrielle Roy House
par Larouche, Monique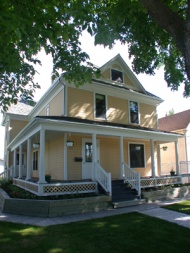 On November 23, 2001, the St. Boniface home, where Gabrielle Roy was born in 1909 and where she lived until 1937, was designated a "Historical House" by the Legislative Assembly of Manitoba.  Gabrielle Roy, the most famous Franco-Manitoban writer, whose works have been translated into and published in more than 14 languages, belongs to an elite group of French language authors from around the globe.  In 1947, she became the first Canadian writer to receive the Femina prize, awarded in France, for her novel Bonheur d'Occasion [known in English as The Tin Flute].  The official opening of the restored St. Boniface home, where she was born, took place on June 19, 2003, after the long process of preserving and restoring it.  Since then, the house has served as a museum, which includes an interpretation and exposition centre that presents the life of Gabrielle Roy and her family.
Article disponible en français : Maison Gabrielle-Roy
The Restored House Today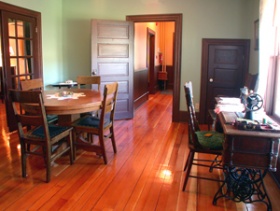 This two-story, twelve-room house, located at 375 Deschambault Street in St. Boniface, Manitoba, was modelled on 19th-century Quebec architecture. The white colonnade that wraps around its façade, its numerous wide windows, and its broad western veranda give the home a regal appearance.  Gabrielle's father, Léon Roy, planted several kinds of trees around the house, including elm, ash, oak and maple, along with apple, cherry and plum trees, as well as currant and rose bushes.  On the first floor, re-furnished in the characteristic style of the author's era, there is the parlour, the dining room, Léon Roy's office, as well as both the winter and summer kitchens, with the latter now home to the Boutique "Bonheur d'Occasion." The second-floor bedrooms feature two exhibits and are used for interpretive activities focusing on the life of Gabrielle Roy.  There is also space reserved for temporary exhibits in the attic, next to the areas set aside for Gabrielle Roy's works, where visitors can read and listen to excerpts from her novels and plays.  The basement of the house has been converted into a small conference room. 
In 1905 Léon Roy, who worked as a colonisation officer, commissioned the construction of this house, which was largely inspired by (or, according to his wife, Mélina Landry, was an architectural copy of) the neighbouring home owned by Charles Bernier.  The Roys had 11 children, including 3 who died at an early age.  Cultural life was very important for the Roy family and piano music often reverberated throughout the house.  In 1960, during an interview with Judith Jasmin, Gabrielle describes the quality of the family's home life as follows:  "What made my parents exceptional was their wit, their noble dreams, and their powerful desire to see us develop and improve" (NOTE 1). Furthermore, because of her gift of storytelling, Mélina created a universe that nurtured Gabrielle's imagination. In La Route d'Altamont [in English it is The Road Past Altamont] the author states:  "And so, this old theme of the arrival of the grand-parents in the West was a sort of canvas, upon which my mother worked her entire life as one might work on a tapestry, knotting the threads-illustrating such and such a destiny-so that the story would change, expand and become increasingly complicated as the storyteller grew older" (NOTE 2). Gabrielle Roy made Deschambault Street the subject of two of her books:  Rue Deschambault [the English version is Street of Riches] (1958) and Ma Petite Rue qui M'a Menée Autour du Monde [not yet available in English] (2002).
Life in the House from 1909 to 1937
Gabrielle Roy was born in the St. Boniface house in 1909 and lived there until 1937.  At the age of 28, having taught in Manitoba for eight years, she took a trip to France and England from 1937 to 1939, during which she discovered her life's vocation.  Once back in Canada, she settled first in Montreal and then in Quebec City, returning to Manitoba only for visits.  Some of the members of her intimate circle of family and friends (her mother in particular) accused her of abandoning her community, an accusation to which Gabrielle pleaded innocent in La Détresse et l'Enchantement [Enchantment and Sorrow]:  "Nobody around me offered any support.  Our little French Catholic town did not raise us at the cost of so much sacrifice, abnegation and hardship, just to let us leave without putting any obstacles in our path [...].  Given our small numbers, any departure was felt to be a desertion, as if we had let other side down [...].  Nevertheless this desire to leave did not seem to come from myself alone.  It often seemed to have been passed on from previous generations who had wasted the vital essence of their souls living obscure, unjust existences and were now finally pushing for their belated liberation through my life and my destiny."(NOTE 3)  In La route d'Altamont, Gabrielle presents and extract of a conversation between a mother and daughter, during which the daughter confides her desire to leave for Europe:  "First of all, [says the mother] you don't need to run off to the ends of the earth in order to write [...].  A writer only needs a quiet room, a bit of paper and herself."  And the daughter answers, "Herself!  You said it:  herself" (NOTE 4). Certain difficulties that may have delayed the house being designated as a heritage site can probably be traced back to this feeling of having been abandoned that St. Boniface's French-speaking community shared with the author's family.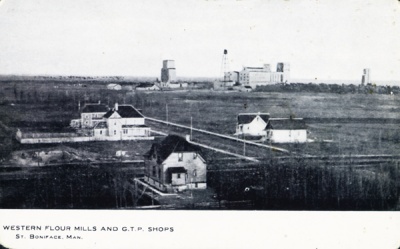 Why Gabrielle Roy Wrote in French
Gabrielle experienced strong feelings of alienation in her dealings with Manitoba's dominant English language culture:  "I now come to what was the most moving aspect of our little rue Deschambault, a tiny French street amidst what is-for all intents and purposes-an English-speaking continent" (NOTE 5). Gabrielle was born into a family that spoke French at home. Her parents came from the Province of Quebec: her father, Léon, from Saint-Isidore-de-Dorchester and her mother, Mélina, from the Jolliette region.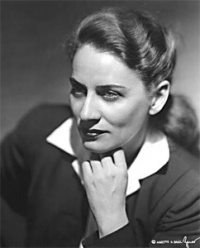 St. Boniface is a small French-speaking community in Manitoba, not far from Winnipeg. At that time, it was the most important city in Western Canada, known for its business district and large influx of immigrants.  Today Manitoba is home to more than 100 different ethnic groups, and French speakers make up no more than seven percent of the population.  During Gabrielle's childhood, St. Boniface was a small town surrounded by fields and separated from Winnipeg by the Red River, as well as by its language and culture.  Populated by the Métis and by immigrants from Quebec and France, St. Boniface was the seat of the diocese, and so the Catholic Church greatly helped preserve the area's French culture and language.  In a 1968 interview with Pauline Beaudry, Gabrielle mentioned that, "St. Boniface, my birthplace, was the centre of French cultural influence in Western Canada during my youth.  It was a major French-speaking town [...].  Immigration to the area brought a fresh influx of French blood from Quebec and France.  It has often been said that I came from the country, but this is not the case, since St. Boniface is a town nestled right next to Winnipeg, Canada's third-largest city.  I did however live on a little street on the edge of town, where it faded into the countryside" (NOTE 6).
Gabrielle went to school in English, since, at the time, French was banned from all Manitoba classrooms by the discriminatory law of 1916.  Before this legislation was adopted, the constitution guaranteed French speakers the right to a French-language education.  While in England, Gabrielle chose to write in French, although she could have done so in English, as she had received every possible award for her scholastic performance in both languages during her high school days.  She became excellent in French, as strong as she was in English, in order to avenge the humiliation inflicted upon French Canadians who were, in her opinion, treated as inferiors:  "So when did I first become aware that I was a member of a community destined to be treated as inferior in my own country?" (NOTE 7)  Nevertheless, in the English-speaking society in which she lived, the French language had very little value at all.  It was therefore something of a feat that Gabrielle Roy became the first Canadian writer to be awarded the Prix Femina for her novel Bonheur d'Occasion, published in 1945.  Translated into English as The Tin Flute, 700,000 copies of the book sold in 1947 alone.
Saving the Threatened Heritage Home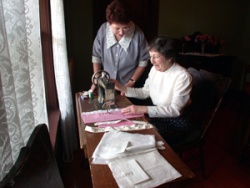 Today Gabrielle Roy has become the soul of the house she once inhabited, since her former residence has been converted into an interpretation centre showcasing her life and her works.  Before becoming a source of pride for the community, this house had long been a source of happiness and then later of worry for the Roy family.  In La Détresse et l'Enchantement, Gabrielle Roy explains why:  "My father had dedicated almost half his life to pinching pennies in order to have enough to build it and then the rest of his days to not losing it.  Sometimes I strongly resented that house, as one might a dear loved one who is capable of sucking us all dry" (NOTE 8). In 1915, the house had to be mortgaged since Mr. Roy had lost his government job as colonization officer, due to political reasons. This occurred barely two years before he was due to retire and it would deprive him of a government pension.  After his death, Mélina tried her best not to lose the family home by renting out rooms and working as a dressmaker.  Unfortunately, she was forced to resign herself to selling it, becoming a simple tenant in her own house.  Gabrielle described the situation in La Détresse et l'Enchantement:  "Anyway, it was impossible for us to keep our house.  Apart from Adèle, I was the only member of our family to receive a steady salary during those years of economic depression and I seem to remember that even Adèle was sometimes without a school during that terrible time" (NOTE 9).
Annette Saint-Pierre's Key Role in Saving the Gabrielle Roy House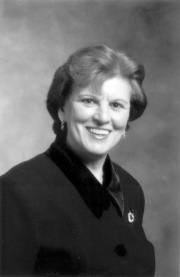 It would require a great deal of perseverance on the part of Annette Saint-Pierre, in order to save the Roy home, so it could be restored and converted into a heritage site dedicated to Gabrielle Roy.  Annette Saint-Pierre already had a master's degree on Gabrielle Roy and had taught courses on Gabrielle's works, first at high school level and then at the Collège Universitaire de Saint-Boniface.  One must also mention that Gabrielle Roy and Annette Saint-Pierre had met on a few occasions and that the author had asked Annette to stop trying to buy the house in order to have it restored.  Annette Saint-Pierre was very surprised by the author's request, since she had not yet undertaken any such initiatives.  She had merely been talking about this project, while lamenting the fact that the house had gotten so rundown. At the same time, Annette had been encouraging her students to go and have a look at the house from the outside, for several residents had been living in it since it had been divided into three or four apartments.  And so, to respect Gabrielle's wishes, Ms. Saint-Pierre decided that no steps would be taken to renovate the place until after Gabrielle's death.
The house's heritage value was first recognized on May 27, 1989, when the Société Historique de Saint-Boniface [St. Boniface Historical Society] erected a commemorative plaque in front of the Gabrielle Roy House.  Annette Saint-Pierre indicated that, due to the fact that neither the government nor the municipal authorities were convinced of the house's heritage value, requests for its recognition were filed three times in vain before the authorities finally granted the house heritage status.  As of 1994, local businessmen began to develop St. Boniface's tourist potential and David Dandeneau, then president of the St. Boniface Chamber de Commerce Francophone, suggested a number of projects.  They consulted Ms. Saint-Pierre who recommended that the restoration of Gabrielle Roy's house and its conversion into a museum should be one of their top priorities. From this point on, Annette Saint-Pierre dedicated herself heart and soul to the project, with the objective of making Gabrielle Roy's works better known, thereby enriching the community's heritage and honouring Gabrielle Roy's memory.
A Community Effort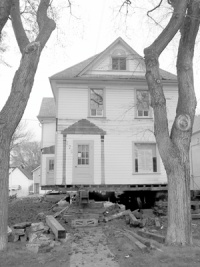 An ad hoc committee chaired by the architect Etienne Gaboury was created and included David Dandeneau; Richard Benoit, a professor at the Collège Universitaire de Saint-Boniface; Roger Lafrenière, an artist and painter; and of course Annette Saint-Pierre, who at that time was co-director of the publishing house Éditions des Plaines.  On June 8, 1994, the committee became a non-profit organization, which Ms. Saint-Pierre quickly re-named Le Groupe des Sept [The Group of Seven].  On February 15, 1998, the Corporation de la Maison Gabrielle-Roy finally became the sixth owner of the house.  Based on the blueprints for Charles Bernier's neighbouring house (which were still intact) Gabrielle Roy's family home could be restored to its original condition, just as Gabrielle had known it during her childhood years.
During the period between 1997 and 2003, the Corporation had struggled tirelessly to raise funds for purchasing and restoring the home.  Annette Saint-Pierre even went so far as to sell her publishing house, in order to devote all her energies to the project, which would eventually cost the Corporation $650,000.  The foundations of the house had to be rebuilt, as Annette Saint-Pierre points out in her book Au pays de Gabrielle Roy, in which fiction and reality meet:  "The house was raised up on girders during the work.  Everywhere in the house, except in the office, there are still the original floors made of British Columbia pine [...].  The walls are painted in the original colours.  Fifteen coats of paint had to be removed to accomplish this [...].  The blueprint of the house had to be examined from top to bottom... all the house's original architectural features were restored, so as to make sure residence would appear just as it did in1905" (NOTE 10).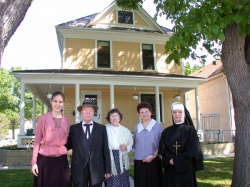 Therefore, numerous financial contributions were required to complete the project, especially those of Heritage Canada, the Manitoba government, the City of Winnipeg and the Société Saint-Jean-Baptiste de Montréal.  Appeals to important public figures from all over Canada, benefit suppers and personal donations finally made it possible to raise the required funds.  The Gabrielle Roy House also received additional grants in 2006 from Heritage Canada and from the Bureau de l'Éducation Française du Manitoba [Manitoba Office of French Language Education] (BÉF), in order to help promote the house in Manitoba's French-language and French-immersion schools.  Annette Saint-Pierre has pointed out that, without the generosity and encouragement of the Amis et Amies de la Maison Gabrielle-Roy [Friends of the Gabrielle Roy House], the project never could have been completed.  On November 23rd, 2001, the Legislative Assembly of Manitoba finally recognized the historical value of the home where Gabrielle Roy was born and a museum committee chaired by Doris Lemoine was created.  Without Annette Saint-Pierre's initiative spirit and tenacity, this house would probably not be part of Manitoba's cultural heritage today.  For all these efforts, including her involvement with the Éditions des Plaines publishing house, the 11 books and the various articles she has published, Annette Saint-Pierre has recently received several awards, such as the 2007 Prix Louis-Riel.  She was also named a member of the Order of Canada in 2004; and, in 2002, she received both the Queen Elisabeth Medal and the Ordre des Palmes Académiques [Order of the Academic Palms].
Gabrielle Roy House has become a source of great pride for St. Boniface's French- and English-speaking communities.  In spite of the author's reluctance to turn her birthplace home into a museum, Gabrielle Roy would have been very surprised to learn that people come from all around to visit the house on Deschambault Street.  Preserving and restoring the home of this great Franco-Manitoban writer has proven to be an arduous undertaking that has nevertheless been crowned with success. 

Monique Larouche
Ph. D., Department of French, Spanish and Italian
University of Manitoba
 NOTES
Note 1.  Nadine Bismuth, Amélie Desruisseaux-Talbot and François Ricard, Rencontres et entretiens avec Gabrielle Roy 1947-1979, Montreal, Éditions du Boréal, 2006, p. 115. [Original citation translated into English]
Note 2.  Gabrielle Roy, La route d'Altamont, Montreal, Éditions du Boréal, 1993 [1966], p. 133. [Original citation translated into English]
Note 3.  Gabrielle Roy, La détresse et l'enchantement, Montreal, Éditions du Boréal, 1984, pp. 211, 183. [Original citation translated into English]
Note 4.  Roy, 1993, op. cit., pp. 147-148.
Note 5.  Gabrielle Roy and Réal Bérard, Ma petite rue qui m'a menée autour du monde, St. Boniface, Manitoba, Éditions du Blé, 2002, p. 21. [Original citation translated into English]
Note 6.  Bismuth, Desruisseaux-Talbot and Ricard, 2006, op. cit., p. 175.
Note 7.  Roy, 1984, op. cit., p. 11.
Note 10.  Annette Saint-Pierre, Au pays de Gabrielle Roy, St. Boniface, Manitoba, Éditions des Plaines, 2005, p. 222. [Original citation translated into English]
BIBLIOGRAPHY
Bismuth, Nadine, Amélie Desruisseaux-Talbot et François Ricard, Rencontres et entretiens avec Gabrielle Roy 1947-1979, Montréal, Éditions du Boréal, 2006, 268 p.
Roy, Gabrielle, Bonheur d'occasion, Montréal, Société des Éditions Pascal, 1945, 346 p.
Roy, Gabrielle, Rue Deschambault, Montréal, Beauchemin, 1955, 87 p.
Roy, Gabrielle, La détresse et l'enchantement, Montréal, Éditions du Boréal, 1984, 506 p.
Roy, Gabrielle, Ma petite rue qui n'a menée autour du monde, Saint-Boniface, Éditions du Blé, 2002, 74 p.
Roy, Gabrielle, La route d'Altamont, Montréal, Éditions du Boréal, 1993 [1966], 163 p.
Saint-Pierre, Annette, Sous le signe du rêve, Saint-Boniface, Éditions du Blé., 1975, 118 p.
Saint-Pierre, Annette, Au pays de Gabrielle Roy, Saint-Boniface, Éditions des Plaines., 2005, 222 p.
Images
Documents PDF
Hyperliens
Catégories