Robert Cavelier de La Salle
par Marchand, Philip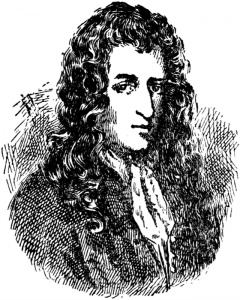 In United States, La Salle is usually considered the greatest of the French explorers in North America. When history was taught in American classrooms primarily as that nation's heroic chronicle of expansion, his name was inevitably listed with others - Henry Hudson, Coronado, Ponce de Leon - whose careers dramatized that expansion. His memory was honored by having an American car named after him, along with other individuals from the colonial period, such as Pontiac, De Soto, Cadillac. However it is the historical writing of Francis Parkman, portraying La Salle in heroic light, that has been most influential in fixing his identity and meaning in North American consciousness. La Salle - identified in popular history as the first man to travel the length of the Mississippi - is a historical personality whose contribution to the European conquest and development of North America will never be eradicated from our collective memory.
Article disponible en français : Robert Cavelier de La Salle
La Salle's image
The name recognition of Cavelier de La Salle remains relatively high. There is no doubt, however, that the legacy of La Salle is currently in decline, as the European conquest of the continent is increasingly deprecated by educators and historians, and as the teaching of history as the narrative of great men gives way to a more social and cultural approach.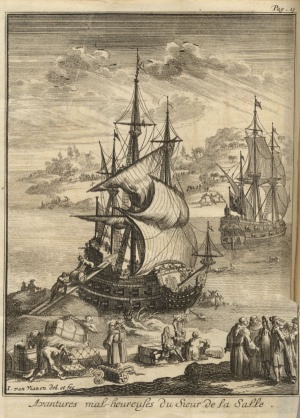 In Canada, Cavelier de La Salle occupies an important place, with other great explorators, in the teaching of New-France's history. That said, the most concrete reminder of La Salle's career in present day Quebec is the Musee de la Ville de Lachine in Montreal, where the ruins of a house in La Salle's old seigneury has been resurrected as a museum. There are few if any references to La Salle himself amongst all the museum artifacts. In the same way, there are few if any references to La Salle in present day Kingston, in Ontario, where La Salle once commanded Fort Frontenac. This absence is consistent with the general neglect of Kingston's French heritage. A small portion of Fort Frontenac's wall, dug up in recent years by archeologists, is the only visible reminder of that heritage, in a city where historical tourism focuses almost exclusively on the British colonial era, as exemplified by Fort Henry.  
La Salle, as heritage, has enjoyed a more interesting career in the United States, where the man has always been admired as a bold explorer. George Bancroft, author of a monumental history of the United States, called La Salle the "first of mariners" in an 1854 volume. Mark Twain devoted a few pages to La Salle in Life on the Mississippi, crediting La Salle with being the first man to conceive "the idea of seeking out that river and exploring it." By so doing, La Salle clearly became an honorary American, in Twain's eyes.

It was Francis Parkman, however, who made La Salle a living historical figure. This Boston intellectual was an incurable romantic - he loved the works of Sir Walter Scott and James Fenimore Cooper, two authors despised by the determinedly anti-romantic Twain. As a fledgling historian, he found the history of New France to be a grand romantic epic, and of all the major characters in that epic, La Salle the most suitable to be its hero.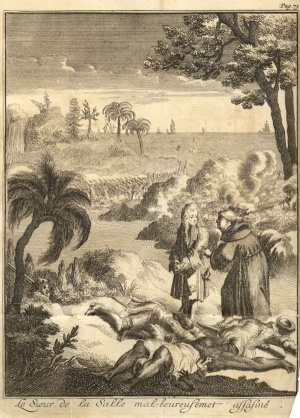 The fortitude and hardiness of La Salle has never been in doubt. Other qualities in the man that others have found objectionable - his combativeness, his aristocratic bearing - Parkman frankly admired. Even La Salle's bouts of paranoia and near insanity, most evident in La Salle's last Texas expedition, only served to make him more sympathetic to Parkman, himself subject to spells of severe depression. A reader can sense Parkman's delicate touch in the one passage of Parkman's history where the author points to his hero's emotional infirmity. "It is difficult not to see in all this the chimera of an overwrought brain, no longer able to distinguish between the possible and the impossible," Parkman wrote about La Salle's increasingly erratic behaviour in Texas.

Because of Parkman's narrative gifts as a historian, and the touch of lyricism that graces his prose from time to time, his La Salle has enjoyed a change of status. No longer a name among others in the chronicles of exploration, he is now a literary character. La Salle has thereby become, in a certain sense, impervious to the assaults of historians, dwelling as he does in the Elysian Fields of literature, thanks to the pen of a Bostonnais. This La Salle can only really be challenged by other imaginative recreations of his persona. At least one other writer has tried to invade those Elysian Fields and challenge Parkman on literary grounds. In 1986 an English professor at the State University of New York at Binghamton, John Vernon, published a novel entitled La Salle, a riposte to Parkman's "foolish hagiography." Although an ingenious, well researched and highly sophisticated literary exercise, the novel has had no appreciable effect on La Salle's legend.
The History of Cavelier de La Salle
Behind the legend, there is the man. Robert Cavalier de La Salle was born in 1643 to a wealthy merchant family in Rouen. At the age of 17 he joined the Jesuit Order, perhaps enticed by the prospect of missionary activity in China, India or the Americas, but left in 1667 when those ambitions were stymied by his superiors. That same year he arrived in Canada where he was granted land west of Montreal by the Sulpician order. After bringing in settlers and helping to cultivate his seigneury, La Salle in 1669 turned to his lifelong pursuit of exploration, with a sideline in the fur trade. Placed in charge of the newly built (1673) fort in present day Kingston, by Governor Frontenac, La Salle used the fort as a base to launch his explorations of the Great Lakes and the Illinois territory.

After much hardship and after witnessing horrific scenes of wilderness warfare, involving the Iroquois Confederacy and its rivals in the fur trade, La Salle and his men entered the Mississippi River via the Illinois river and in April, 1682, after two months of navigation, reached its mouth on the Gulf of Mexico. La Salle returned to Canada and France, where he obtained financial help from the king for his scheme to build a fort on the mouth of the Mississippi. His return to that place in a naval expedition was hindered by universal ignorance of the geography of the region, resulting in the expedition's 1685 landing in present-day Matagorda Bay, Texas, 400 miles west of the Mississippi River. After two years of wandering the region, while the number of French inhabitants in the crudely built settlement near Matagorda Bay steadily declined through disease, accident and warfare with local Indians, La Salle set off for Canada, on foot, to obtain help. It was during this last expedition that La Salle was murdered, in mid-March, 1687, by disaffected members of his crew.


Monuments
In addition to literature, public monuments at various places in the United States have registered the shifts in public perception of La Salle. A plaque erected on the site of Fort Niagara by the state of New York in 1934 refers to La Salle as "Author of Great Beginnings" and a "Dreamer of Dreams," two titles which place La Salle firmly in the context of American history. The "Great Beginnings" clearly do not refer to the beginnings of, say, the province of Quebec, but of the United States of America. La Salle's "Dreams" also seem suspiciously like the American Dream.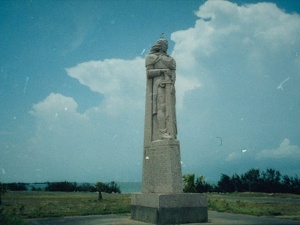 The plaque reads, "Through his courage, suffering and endurance came Christianity and Civilization." Parkman might balk at the reference to Christianity, since he had no use for that religion. The shade of La Salle, however, might be pleased, since he was a serious Catholic, despite his antipathy to Jesuits, and no doubt thought of himself as more than a mere wholesaler of beaver pelts and buffalo hides.

A more recent plaque, at Starved Rock, once the site of a fort built by La Salle's men and now an Illinois State Park, retains the heroic sense of La Salle, while accommodating him to more contemporary sensibilities. "La Salle was a man of vision and courage," the plaque reads. "He established contact with Native Americans and brought European culture to this area, while acting as a peacemaker in his actions with local Indian peoples. His explorations were responsible for expansion of the Western Frontier into this area of Illinois." While few would view La Salle primarily as a "peacemaker," this label is a reminder that La Salle, in all of his adventures, was guiltless of Indian blood. The contrast is striking with his Spanish counterparts, such as De Soto, and surely forms a basis for an eventual upward appreciation of La Salle's heritage "value."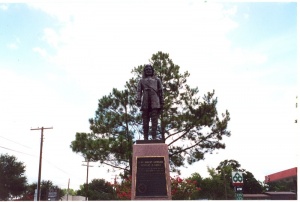 The grandest monument to La Salle was erected in 1939 on Indianola beach, not far from the site of La Salle's Texas settlement on Garcitas Creek. La Salle stands about eight feet high, with flowing hair and a massive sword, like an Arthurian knight. His head, however, is not raised in triumph. Rather, he gazes downward, as if in sad recognition of his failure. The quotation on the monument is from Parkman: "America owes him an enduring memory for in this masculine figure she sees the pioneer who guided her to the possession of her richest heritage." It's as if the creators of the monument wanted to console La Salle for the terrible debacle of his Texas expedition by granting him honorary American status, accompanied with a bouquet of gratitude.

The oddest monument to La Salle can also be found in Texas. It's a life-sized statue of La Salle on the main street of Navasota, Texas, where many historians believe that La Salle was killed. This 1930 statue refers to La Salle as a "frontier statesman, empire builder, a nobleman in rank and character," It shows him holding out a friendly hand to a local Indian. Again, this is pure Parkman, although Parkman would not be quite so sentimental about the local Indian. Added interpretation of the statue is offered in an essay entitled A History of the La Salle Monument at Navasota, by a man named Loyal V. Norman. The essay can be found in the Navasota public library. Norman writes,. "La Salle has been classed with the Heroes of the Alamo, as a martyr to the advancement of Texas."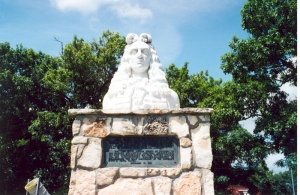 This is perhaps the unlikeliest role La Salle has ever been cast in. Still, the comment does show a certain elasticity in La Salle's image, by no means a bad thing for a heritage asset.

It should also be noted that Navasota contains another memento of La Salle. Next to a parking lot of a Chinese restaurant called the Golden Palace is a bust purportedly of La Salle - he has a very unpleasant expression on his face - donated to the citizens of Navasota by a body called the French Committee of the Bicentennial of the United States and another body called the Association France-Amerique. There is no inscription on it.
Building La Salle's Heritage
Of all the great names from seventeenth century New France, La Salle, along with Samuel De Champlain, has been most honoured by American writers, such as the 19th century historian George Bancroft, Mark Twain, and above all Francis Parkman. These writers universally adopt a celebratory tone regarding La Salle's greatest achievement, his voyage down the Mississippi River to the Gulf of Mexico. Not forgotten, of course, is La Salle's last, fatal expedition to Texas, but this episode, for these writers, only lends an air of noble tragedy to La Salle's career. Meanwhile, through historical plaques and statues, in such locales as New York State, Illinois and Texas, La Salle's memory continues to be honoured in the United States.

It is an interesting question, given that all available historical documents regarding La Salle have been thoroughly studied by historians for generations, whether any major re-interpretation of La Salle will emerge in the future. If any new light is to be shed on La Salle, it may well come from on-going anthropological  and archeological investigations into conditions of life at the time, among both Europeans and native Americans. But the growth or diminution of La Salle's iconic status, and hence his heritage value, will probably come not from scholars but from novelists, film-makers or television producers intrigued by the figure of La Salle and keen to undertake an imaginative reappraisal of the explorer.

What La Salle offers us is a genuine example of the spirit of individual achievement and discovery, coupled with an understanding and acceptance of "the other" - in La Salle's case, Native Americans. The most heartening aspect of his story is his communication with Native Americans, and a rapport, that was genuine and that often exceeded his communication and rapport with his own people. He and Native Americans understood each other, in a kind of miracle of cross-cultural comprehension.

It is true that in the last phase of La Salle's career, his sojourn in Texas, his judgement, in this respect and in others, failed him. For whatever reason, he did not exercise his gifts for engaging Native people on their own terms. This should not detract, however, from his over-all record of negotiations with Native peoples. Nor should it detract from his greatest triumph, a triumph over himself and over his inability to work with, and rely on, his compatriots. For a brief time, travelling down the Mississippi with some few trusted individuals, he fulfilled himself.
This surely is a historical narrative that can be viewed as heritage in the making
Philip Marchand
Journalist and writer
BIBLIOGRAPHY
Doughty, Howard. Francis Parkman. New York: Greenwood Press, 1962.

Margry, Pierre. Lettres de Cavelier de La Salle et correspondence relative à ses entreprises, 1678-1685. Brooklyn: AMS Press, 1974.

Parkman, Francis. La Salle and the Discovery of the Great West. Boston: Little Brown, and Company, 1895.

Vernon, John. La Salle. New York, N.Y. 1987.

Weddle, Robert S. The Wreck of the Belle, the Ruin of La Salle. College Station, Texas. 2001.
Images
Documents PDF
Hyperliens
Catégories